Items listed are mine. I am not a dealer. Interested buyers/traders may contact me through e-mail. I prefer to do face to face sales of firearms. All items are sold as is although I do make every attempt to provide a complete and accurate description. Further, the face to face sale allows the buyer to make a personal inspection before transfer of funds. Transfer of firearms will include a Bill of Sale which will include my viewing of your drivers license to verify address. I reserve the right to refuse to sell to any given person without explanation. In all cases all laws will be observed and obeyed for all parties. Payment for all items will be in cash or by United States Postal Money Order unless other options have been previously accepted.

If an item is shipped out of state it will be done in accordance with all applicable laws and regulation. Buyers will have a 3-day inspection period. I will refund the price of the firearm but buyer will pay shipping both ways. Failure of the buyer who refuses an item to insure the item may result in reduced refund to pay for repairs, if needed. Firearms will be shipped in a case in a box.

I reserve the right to refuse sales to anyone at any time without explanation.
---
Norinco Model 213 9mm semi-automatic pistol with 2 magazines, 75-80% finish such as the finish is on these, no box. Safety works but is stiff as heck and I never use it. It functions well and is accurate but I don't need OR want a second 9mm. I carry hammer down on an empty chamber. $175 plus shipping/insurance in the continental United States.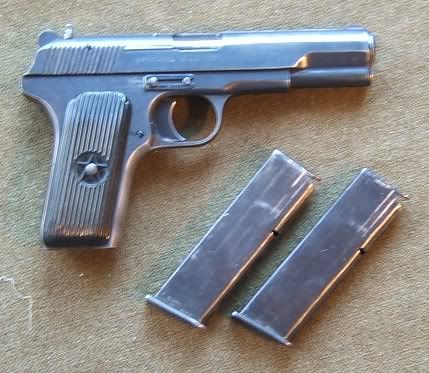 ---

TrailManor 2720SL
The floor plan is easy to live in.
Has fold-up tables for the sofa...
Toilet, sink...
...and shower
...
Gas cook top, oven and kitchen
Set up..
Looking back to the bed...
Manufacturer's publicity photo...
It is a pretty unit. These photos are of when the unit was new and it does need some minor cleaning.
Retail on a new unit like this one is $32,000+. We won't accept trades on this but are asking $7,500 as is. We WILL negotiate.
---