Once upon a time I looked at the Ithaca 49R Saddlegun and lusted after this perennial advertiser in the boys magazines. Then a friend of my father's managed to drop his guard and let me close enough to his Marlin Mountie to initiate the drool response. Although it was many years until money and a rifle were co-located in my life, the drooling never stopped. I had other, fully capable, .22 Long Rifle chambered rifles but still, the trim lines, lever and balanced layout of the Mountie continued to cause a Pavlovian response in this poor boy.
The Marlin 39 began as the 1891 and through improvements (models 1892, 1897 and 39) finally evolved into the 39A. One of the models of the 39A was the straight grip Mountie with a 20" barrel. The gun has further evolved into the 39AS with rebounding hammer and crossbolt safety (which are completely unneccesary complications to this fine design).
As is my habit, I buy Williams Foolproof Receiver sights for guns I'd like to have someday. It was my good fortune to find a poorly and inaccurately described sight for the Marlin 39. Joy of joy, I got the sight (and some others...) for about $30 delivered. Ever closer to my dream, I stored the sight in my parts box in the basement and went on with life.
But I never lost my dream. One day I was perusing Gunbroker.com with the reckless abandon born of empty pockets when I spied this Marlin 39A Mountie with a buy-it-now price of just $200. Obviously, there must be something wrong with it but at $250 delivered and background check it couldn't be that bad. It wasn't. Scrambling through the wallet, emptying the change jar, and the money was scraped together. Off it went together with the necessary FFL copy and in a matter of days the gun was delivered into my hands.
With, finally after 41 years, a Marlin Model 39 Mountie in my hands, I was as happy as I could be with a new-to-me gun. This one was made in 1956 which I knew because the serial began with the letter "N". The gun had one issue in that the latch/muzzle end of the mag tube is a bit buggered but a new mag tube was ordered (although I've yet to install it).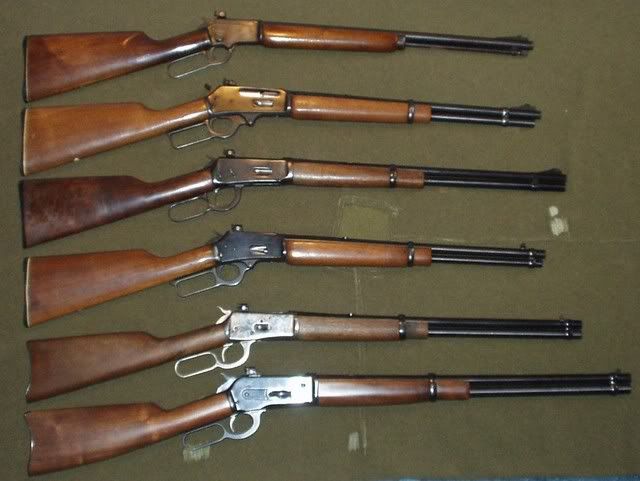 Of course, the first thing I did was install the Williams Foolproof Receiver sight (you can see in the photo that I tend to a certain pattern) and go to the range. I took along some Aguila Super Colibri, CCI CB-Long, Winchester Dynapoint (both modified to the SGB point and unmodified), Winchester PowerPoint and Aguila SSS (with the 60 gr. bullet) but forgot the chronograph. I don't know the velocities of the various loads from this gun but all proved to be usably accurate with the PowerPoints and SGB pointed Dynapoints being the most accurate. I was also very surprised to discover that the Marlin would stabilize the long Aguila 60 gr. bullets in the SSS load. None of my other .22s would do so. I converted a few to the SGB point and they were even more accurate but not so much as to be a critical difference at 25-50 yards. Perhaps at 100 yards the accuracy difference would be notable.
I then had to take it squirrel hunting. It was a treat. There is nothing like toting a classic rifle made of wood and steel into the woods after game. I was in a sort of heaven and shortly so were two of the local gray squirrel population. (They were excellent when cut up, stir fried and served over white rice...) The gun was everything I knew it would be. I only wish I'd been able to share the experience but, as usual, I was hunting alone.
I'm looking forward to many happy years with this fine .22 rimfire rifle.