Sometime back, I started to write about my loading set-up and some of the circumstances with which I've had to deal and my solutions to certain problems. I also had a couple of photos of my layout. However, I was distracted by something else and didn't capture all the data. I hope to do that here, now.
I've been through a lot of different set-ups as I moved around and gone from a Lee Loader to RCBS Rockchucker. I've accumulated die sets for 26 cartridges and a lot of brass, bullets and primers (when in doubt of what to get at a gunshop and feel a need to buy something, I get primers). I've also loaded a pile of ammo, more than I expected to do, for every firearm I shoot. Well, I think it is a pile, usually about 500 rounds per and there are few duplicates indeed. This requires a storage facility and system that must also resist moisture as it is in my basement (despite the constant use of 1-2 dehumidifiers). Systematic storage also makes for a safer environment and the ability to lay your hands on what you need when you need it.
The equipment my bench must house or must be used on its surface include my tool box, 2 MEC 600 Jr presses, 1 SAECO lubricator-sizer, an RCBS Rockchucker, scale, trickler, 26 sets of loading dies, and a Lyman trimmer. I also have a supply of primers, bullets, and powder. I also have molds and casting equipment and a number of miscellaneous tools. For me, the bench has always been a cobbled together assortment of hand-me-down furniture and lumber. Seems that things still have not changed that much.
As you look at the photos you can see that I have shelves on the left of the "bench" (really a low desk type "construction") and an old child's desk (mine from 1963 or 1964!). From left to right I have component and die storage, tool box and working bench and shotshell loading setup. In the second photo you can see how I store my ammo in GI 5.56mm or .50 Cal ammo cans on a shelf designed to take either 7 of the aforementioned cans or twice that number of the .30 Cal (7.62mm) MG ammo cans. Those shelves hold much but not all of my ammunition.
My Ammo Storage Shelves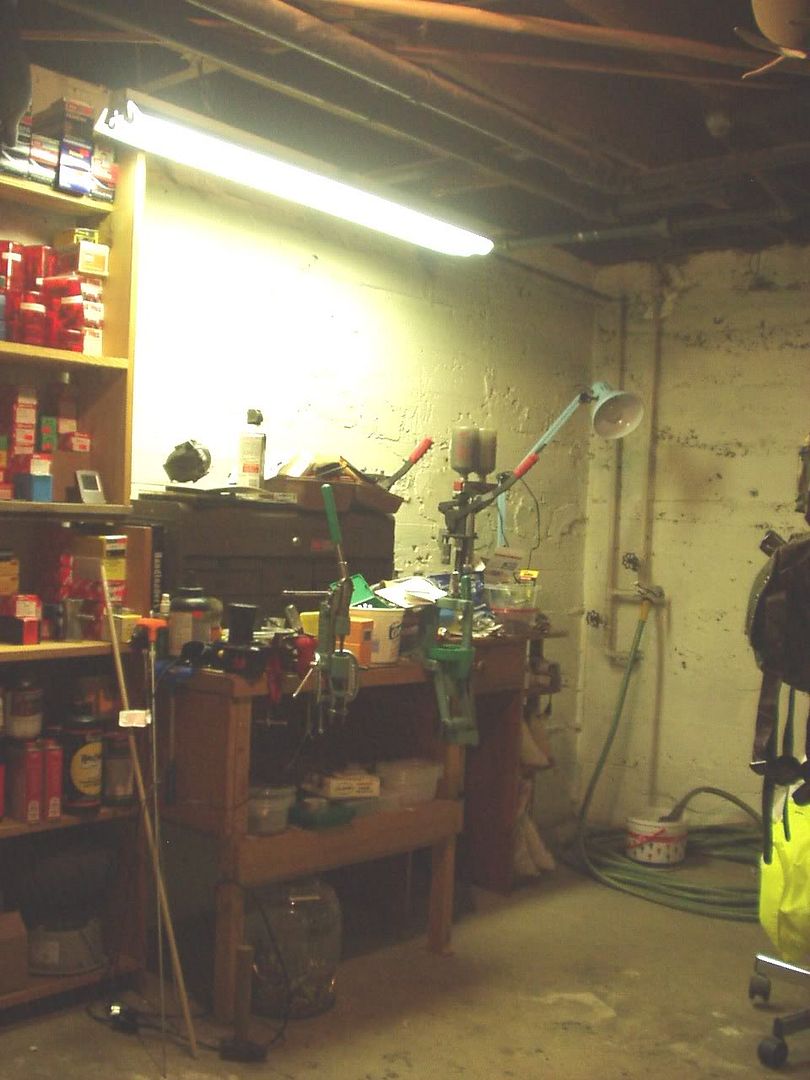 My "Bench"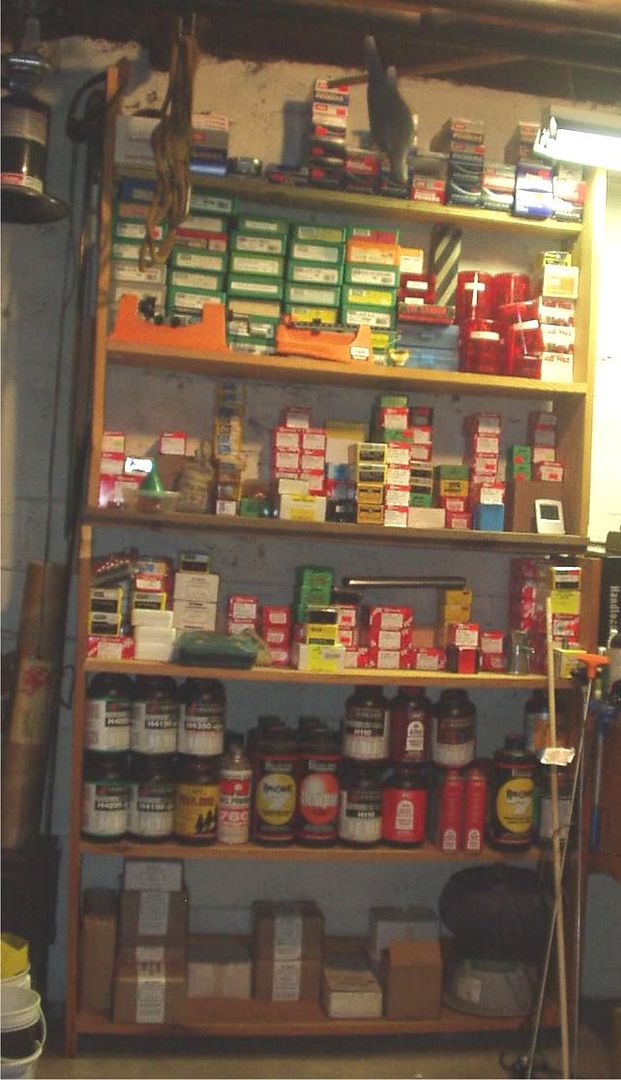 My Component Storage Shelves
I think that anyone can see from the photos that I'm not bragging. It more closely approximates a rat hole and isn't in any way luxurious, but my reloading set up works and produces good ammo.