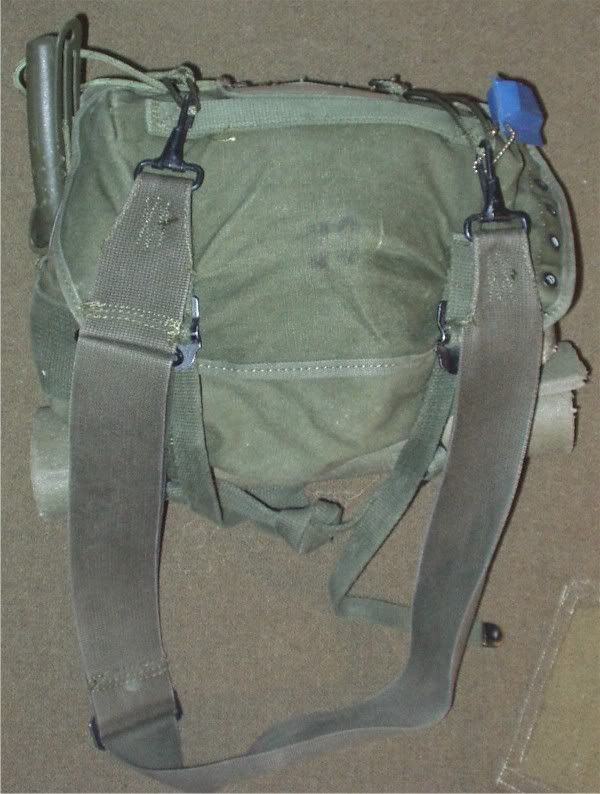 The Hunting Bag
I struggled many years with how to carry the seemingly innumerable things that one finds one wants, needs, or is pressured into carrying when hunting. I tried pockets, backpacks/rucks, fannypacks, and this, my hunting bag.
Nothing more than a US Army canvas buttpack with a utility shoulder strap hooked to loops of paracord (for silence), this has been convenient and capacious enough for my purposes here in the eastern US where most of my hunts are within 1-2 miles of several houses, and help.
What exactly is in the bag? Well...
1 - Knife, actually 3 knives.
Frost of Mora
Swedish Army Knife,
Cold Steel Twistmaster
Knife (now discontinued), and the
Wyoming Knife
.
2 - Glove kit. You can't be too safe given today's health concerns and the wife doesn't want blood on my shirt. Consists of 2 pair of rubber gloves and some pre-moistened wipes for clean-up.
3 - Seat mat. The ground is always wet where I want to sit. I made mine from an otherwise unserviceable US Army issue sleeping mat.
4 - Drag strap. Some of my deer don't come with built in handles! Mine used to be a tree-stand safety strap.
5 - Flashlight. It gets dark at the worst possible time. I recommend BLUE or YELLOW as the color for the flashlight so you can find it if dropped (when off) but the camo was a gift.
6 - Extra gloves. If yours get wet OR aren't enough when you stop moving. These are insulated with Thinsulate®.
7 -
Gerber
multi-tool. I happen to have one but a Leatherman, SOG or other will do just as well.
8 -
DMT diamond sharpening "stone"
. Knives get dull at the worst possible time.
9 - Magnesium fire starter. It gets cold at the worst possible time.
10- Water purification "straw". One runs out of water at the worst possible time.
11- Ear plugs. Just in case...
12-
Gerber
field saw. Who knows...
13- Extra ammunition (sometimes).
14- Chemical heater(s). These are
Hot Hands®
.
I can also stick food and actual water in there. To be honest, this thing would probably sustain me for quite a while IF I was mobile. Well, ok, I could carry this stuff in my pockets, but I either couldn't find which pocket, couldn't get to the pocket because of my position (prone or sitting), and it was darn uncomfortable. Yes, you're right, I could have carried a backpack (and have) but how often has it been that you wanted to get to something in your ruck but didn't want to shrug your ruck either because it was darn inconvenient or because it would be more movement than you wanted to make at the time. With this throwback to the muzzleloading era I can simply slid it over into my lap, when sitting, and access anything I need.