Yeah, this is one time I didn't get the gun. Why? I'll talk about that later. What was the gun?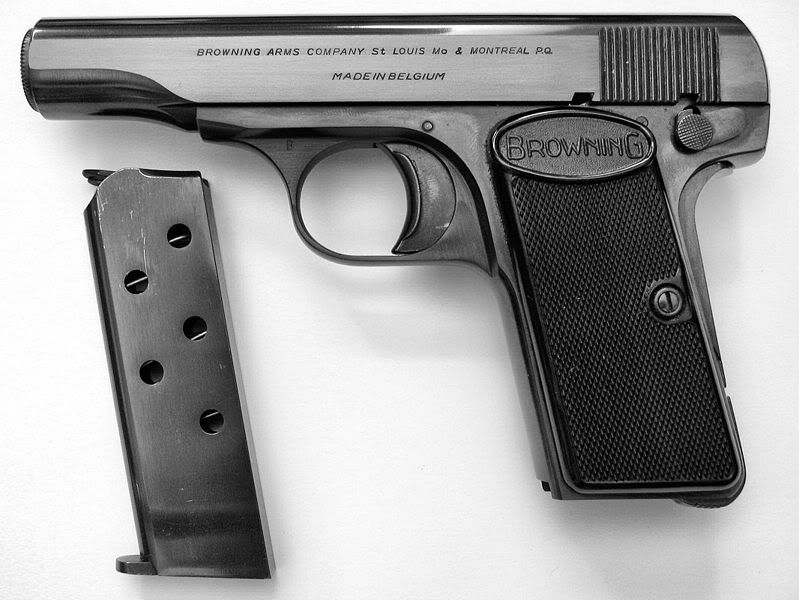 It was a Browning 1955 (or 1910) in .380 ACP (9mm Kurz) with a single magazine and the original soft case. With a serial number in the 590XXX range it appears to have been produced in 1966 (according to
Proofhouse
). The gun is in 98-99% condition with only a very small scratch on the rear of the slide. The trade or credit card price is $499. If interested you can call/contact Chris Kinchloe at Nuckols Gunworks, 1801 West Beverley Sreet, Staunton, VA 24401, (540) 886-3061, nuckolsgun@comcast.net.
Of course, I had to learn something all I could about these guns before I actually bought one. The history is pretty interesting. For example, the model was used in the assassination of Archduke Ferdinand, thus sparking World War I (serials 19074, 19075, 19120 and 19126 were acquired for the group although which was actually fired at the Archduke is unknown). The Finns used them as a limited standard military issue during the Continuation War. They were popular police arms in Europe. So, there was lots of history to interest me.
The FN (Browning) Model 1910 was a further business evolution for John Browning. His designs were previously produced by both FN in Europe and Colt in the United States. But, Colt did not want to produce the 1910 so Browning chose to patent and produce this design only in Europe. This pistol used a novel operating spring location surrounding the barrel which became the standard in the Walther PP and Russian Pistolet Makarov. It incorporated the Browning striker-firing mechanism and a grip safety along with a magazine safety and an external safety lever (known as the "triple safety") in a compact package. It was offered in both .380 ACP (6-round magazine
) and .32 ACP (7-round magazine) calibers and it was produced until 1983.
The guns are very compact and with the exception of the plastic or wood stocks are made entirely of steel. They feel very solid in the hand but being so small, there isn't much grip. For some people, it is difficult to grip the gun well to shoot accurately and also depress the grip safety. The sights are very small and although suitable for pocket carry, they aren't the easiest to see. Of course, these guns were designed in the era of FMJ ball ammo as standard and while they most often function 100% with ball, they might not with modern hollow points. John Browning had a winner with this one as witnessed by its long production run.
No, I didn't buy it. I wanted to but felt that on balance it was not a gun on which I should spend my assets. I felt it was a bit difficult to properly grip. I'm not sure that I could shoot it well or comfortably. I had a lot of difficulty seeing the sights with my bifocals. So that was two strikes against accurate shooting. I didn't particularly want to pick up an additional cartridge for which to load or to store. While I have a large store of .380 brass I don't have any dies and would also need bullets.
This particular gun is in such fine condition that it is like a jewel. If I had more discretionary funds I'd likely have bought it. It would still be an excellent carry gun for certain people with smaller hands. It is so small that one could carry it in modern jeans pockets.