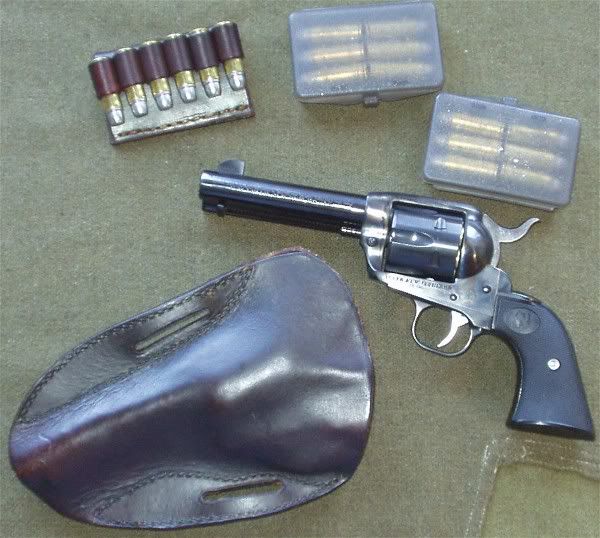 Well, I've FINALLY gotten the Ruger New Vaquero .45 Colt 4-5/8". I'm pretty impressed although I should add that I've not yet had a chance to shoot the gun. Tomorrow or Wednesday, maybe... The gun seems well put together and locks up well without much slop. The front sight seems to be square and plumb, everything seems to function as intended AND the sights are easy for me to see. The finish is nothing special. If you expect Ruger's applied Color finish to match the Turnbull color-case you'll be disappointed. I've also read that the finish will wear rapidly. Fine with me, I might expect to send it to Turnbull for refinish after it is pretty worn. I sure do like this grip better than those the Ruger SAs have had for years. Based on this I might get 50th Anniversary or preferably, if they come out next year, a .44 Special or .45 Colt with adjustable sights.
Now I need to order leather. First, I'll get a set-up I can use in the field and for daily carry. This gun seems handier than my S&W 629, but that could be just me! I've already got an order ready for Rob Leahy at
Simply Rugged
. I'm going for a Sourdough Pancake, a cartridge slide and belt. I think the prices are good (excellent) and Rob repeatedly gets kudos for his quality.