Conversion units for the Colt 1911 and later model/variations in .45 ACP have been around for quite awhile and the concept has been around longer than the pistol with some limited conversions being made for Webley revolvers. While the cost is often seemingly prohibitive since a simple .22 LR pistol can often be had for less money, the conversions allow something purpose built .22 pistols don't. That is, they allow practice with the same trigger, safety and grip as the self-defense arm but at a considerable savings in ammunition cost. However, I can't see that practice with something that provides less than stellar accuracy is really practice at all. Certainly it can't build confidence! Clearing jams is also a practice best left to the full-size combat cartridge due to the peculiarities of both cartridge and slide operation which, of necessity, must differ. So, the conversion units must be accurate and reliable and spare magazines available. Otherwise the effort would seem pointless.
Seems to me that there used to be only one .22 LR conversion set for the 1911 pistol and that was made by Colt.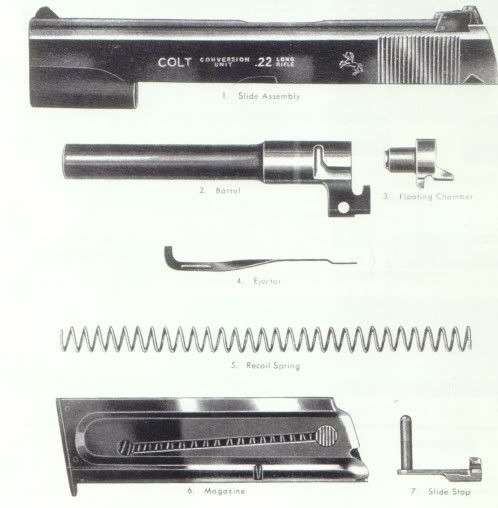 The Colt .22-.45 (later the Coltmaster) conversion unit was a development from their Ace then Service Ace products. The system featured a floating chamber from "Carbine" Williams in order to make the little .22 LR function like the .45 ACP n the big pistol. Combined with the lack of hand fitting, these conversions might and might not be wonderful. In addition, and this is the big bugaboo I'd always heard about, the floating chamber would severely foul in as few as 50 rounds. Then, these units are also getting up there in price. I don't think this is what I should be looking for, after all, I'm a shooter, not a collector!
Advantage Arms has a
1911 Conversion Kit
(the standard kit is shown, there is also a Target Kit) which appears to be made by Ceiner and repackaged for the Advantage Arms brand. Price for this kit is $349 with $25 for each additional magazine. As you can see, Advantage Arms has tried to differentiate their product by offering it in a higher quality case and with cleaning equipment. That doesn't seem to warrant the additional cost over the Ceiner marketed unit, for me, but I suppose they sell some. The Target Model differs in that it has adjustable sights and a "rib" over the top of the upper assembly.
Ceiner has taken a shot at making some money from the market with
their kit
. Price on these is $199 direct from Ceiner and the 15-round magazines are $35. Like the others (other than the Colt), I've no direct experience but it seems to me that if you build solely on price point, you get what you pay for. In some way or another, I can only imagine that these aren't going to come up to the same standard as those units built with more of an eye to durability and less of an eye towards price.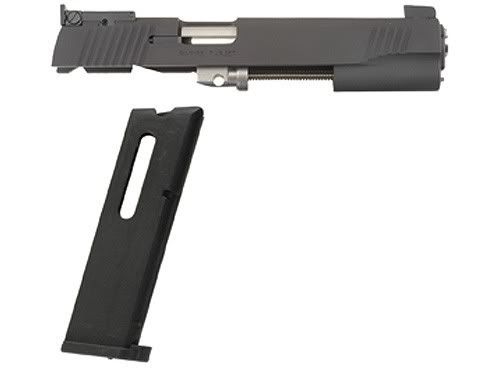 There is also the
Kimber rimfire target conversion kit
. I've read or been told that Ceiner makes these kits, but I don't know that. I'd love to see them all side-by-side to see for myself! These are $314 for either the blue or silver (for stainless guns) and extra magazines are almost $26. You can order them direct from Kimber but you can get them from
MidwayUSA for $299
.
Kittery Trading Post has them
on offer for $289! I have committed to buying one of these used and will see how it does. I'll probably buy a second magazine before giving it a detailed cleaning and wrapping it up for the son-in-law.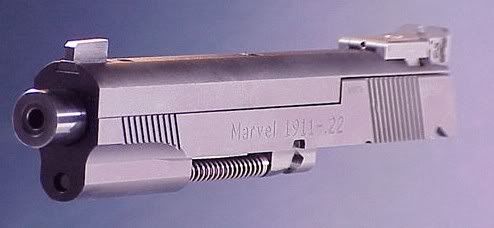 Marvel has their
1911 .22 LR Conversion Unit
. They say
The Marvel .22 Conversion Unit converts any caliber 1911 Semi-Auto with no fitting required. Installation time is under a minute, even if you're taking your time. It fits Government, Commander and Officer Model 1911 Frames. Magazine fits all those models also, but will extend below the bottom of the grip on the Officer Model.

Each conversion kit comes with one tested steel magazine and a foam-padded, soft-side nylon case.
The Marvel unit is $408 direct from the manufacturer and magazines are a whopping $47 each.
John has written a review
of the unit that is worth reading and he has follow-ups! Good job John.
Tactical Solutions
has one that was
completely reviewed by Gunblast
. It sure looks good and I know that Jeff and Boge Quinn tell it like it is. That gives me a lot of confidence in the product without ever seeing one. I like, also, that I can use it on the Commander as well. Currently listed at $400, this seems to be a quality item. I don't see a listed price for the magazines. This is the one that the experts recommend. While they say they are out of stock they are taking orders and making these units to order with delivery in about 8 weeks from date of order. I have pretty much decided to get one of these units. As one can also get, as Mr. Quinn did, the barrel threaded for the suppressor, and that is just what I'm going to do. No, I don't have a suppressor and I might not ever have one. But it is worth doing just in case and it doesn't change the price.
Wilson Combat
has a
.22 conversion unit
as well. I've been told these are made by Ceiner with a couple of changes but the magazines look nothing like the Ceiner product. Perhaps it is just the uppers? Maybe one of you can clue me in on this. Price for the Wilson product is $319.95 and extra magazines are $42.95.
Of course this is all about making this Colt 1991A1 just a shade more versatile and useful, you know, if I have to cut back for some reason. "Just in case" seems to be more and more a justification that I can live with as we approach the election this November.