The .45 ACP in the revolver is the result of wartime exigency. The U.S. entered WWI and discovered they had insufficient stocks of the 1911 pistol for use in the trenches of France. S&W and Colt were asked to produce a revolver in the issue cartridge, the .45 ACP. A genius came up with the idea of the half-moon clip to allow the simultaneous ejection of the rimless service cartridge. Early Colt revolvers had chambers bored straight through the cylinder and required the half-moon clips (holding 3 rounds), S&Ws had a proper chamber with shoulder on which the .45 ACP case could headspace without the clips. These revolvers which made it home from the war were reissued to banks and post offices during the roaring '20s and/or sold as surplus. Many civilian shooters disliked using half-moon clips. For this reason, in 1920, the Peters ammunition company introduced a rimmed variation of the .45 ACP cartridge under the name .45 Auto Rim. It allowed both versions of the Model 1917 revolver to fire reliably without the clips.
The military service of the M1917 did not end with the First World War. In the mid-1930s, Brazil ordered many thousands of M1917s for their military. Now out of service and sold as surplus, Brazilian M1917s are sometimes seen in gun stores in the United States. They can be identified by the large Brazilian crest stamped on their side plates.
S&W saw a market for the guns and produced competition guns like the Model 1950 as well as other sporting configurations. Later, with the advent of stainless steel use in the firearms industry, it was inevitable that S&W would produce the old 25 using the material and the 625 was born. There have been several configurations of the 625 using barrels of 2-6½ inches and round-butts along with other features. the model number has even been applied to guns chambered for the .45 Colt.
When a friend offered to sell me his S&W 25 I "suddenly" got up a great deal of interest in the guns. I've read about the S&W .45 ACP chambered revolvers since I first picked up a Riviere's "The Gunner's Bible" a way back in 1965. I must have seen a couple of the commercial guns or a 1917 because my impression was that I would never, and I mean
never
get my hand around one of those or be able to shoot it. It must have been a strong impression because it took me a number of years before I took a chance on my S&W 629. I've documented my search for grips for that square butted frame revolver and that kinda put me off the N-frames (despite a nagging lust for a M-58) for years. Then, about 9 months ago, a close friend showed me his packing pistol, a "Lew Horton" 25-2 with 3" barrel.
Frankly, this is the first N-frame gun that had a grip with which I felt I could shoot DA or SA without some sort of contortion of the shooting hand. In other words I could reach the trigger and shoot it DA without my stubby little fingers needing an extension. I liked it. Unfortunately, we had an ice storm this week so we had to delay the transaction until this week.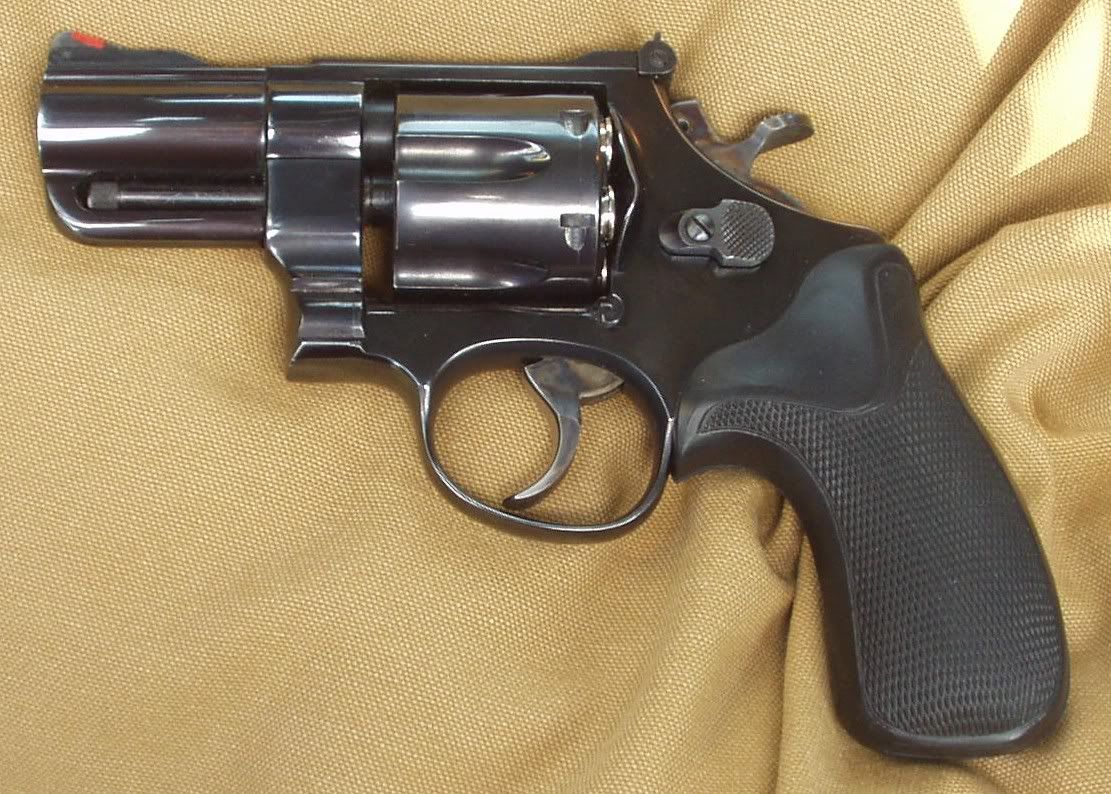 I'm rather pleased. The big, blued, N-frame gun is a handful but with either the Pachmayr or wood grips (which I've found are for an N-frame gun), the K-frame round-butt makes it a gun I can handle and feels better in my hand than my M629. It makes me think I should have had my 629 given a K-frame round-butt. The serial makes this of 1982 (or 1983 at the latest) manufacture. I've been told that it was not a Lew Horton but a
John Jovino
"Effector", and I'm now convinced that is correct. I know my buddy was convinced that it was a Lew Horton but after seeing my evidence he's agreed that this gun came from the Jovino shop. There are no barrel markings and the blue is even and the same color on the whole gun. It is very well done by whomever and locks up tight with very little end-shake but there is a bit of "chatter" on the muzzle. It has the trademark Jovino ejector rod detent ball but the barrel is not marked "Effector" as some apparently are. I got it with a Galco holster (as shown) which seems to have been made for it. Whether this was provided by the Jovino shop or not, I can't say.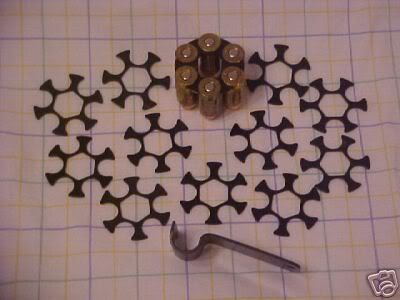 Of course I needed some moon clips to use in the gun and being the impatient sort I went to eBay and ordered from
Old Sarge's Drop Zone
from whom I got 100 for $34.60 shipped. That's a darn good price, S&Ws being 3 times that price and no better so far as I can tell. I also ordered 15 more plus a de-mooning tool from
TarHeelGunner
at $16.99 shipped. The clips from TarHeelGunner are the same as those from Old Sarge's Drop Zone and the tool is of the older, pressed sheet metal style which works a treat. TarHeelGunner also includes written instructions for the tool and an e-mail address to request an illustrative photo! I think that's pretty good service.
With my load of Unique under the Hornady 200 gr. CT-Match bullet, the gun shoots minute of pine bole at 15 yards. I really need to work it out some and have plenty of ammo loaded. Just need time for real range work.
In the video that follows Jerry Miculek is shooting an S&W 625 (the stainless 25) when he fires six shots, reloads, and fires six more shots all in 2.99 seconds. A revolver is actually faster than a semi-auto... at least in Jerry's hands.
Links:
-
Brownells
-
a variety of moon clip products
-
Cheaper than Dirt
-
full-moon clips
-
RimZ Moon Clips
-
the plastic moonclip
-
TK Custom and Moonclips
-moonclips and clip tool
-
Reloading The .45 ACP Part 2: Sixguns
by John Taffin