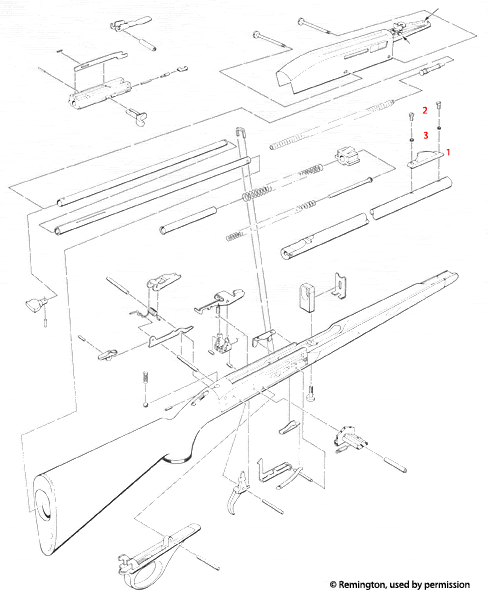 Just cock the gun and put the safety ON (THIS IS IMPORTANT!!!), remove the feed tube, pull the bolt handle straight out of the side of the gun, take out the two receiver cover screws and lift the receiver cover off (No parts will fly off when this is done...), loosen the barrel retainer and raise it up enough to slide the barrel forward and out of the stock, loosen the barrel retaining screw all the way and lift the barrel retainer out of the stock, then slide the bolt forward and out of the receiver / stock and you're done. Clean and re-assemble in reverse order.
A little background. In the 1960s Remington produced a line of synthetic stocked autoloading, lever action, and bolt action .22 rifles. Remington nylon stocks were made of a DuPont Nylon 66 series plastic called structural Zytel-101 that Dupont developed specifically for these rifles. (Remington Arms was then owned by DuPont.) They were advertised to not warp, crack, chip, fade, or peel for the life of the rifle.
Designed by W.E. Leek, C.H. Morse, and H.W. Young and introduced in 1959, the most successful and best known of the Remington Nylon series was the Nylon 66. It is a blowback operated, tubular magazine fed semi-automatic rifle chambered for the .22 Long Rifle cartridge. This rifle's receiver was actually nylon and the bolt ran on "self lubricating" nylon rails. The Owners Manual advises not to lubricate the action with gun oil. There is a blued sheet steel cover used to give the receiver a more normal appearance and a 19-5/8" barrel. The brass tubular magazine, which hold 14 cartridges, is in the butt stock of the rifle and is loaded through a recess in the plastic buttplate. The whole gun weighs only 4 pounds (empty).
Links:
-
NylonRifles.com
Everything about the Remington Nylon Rifles!