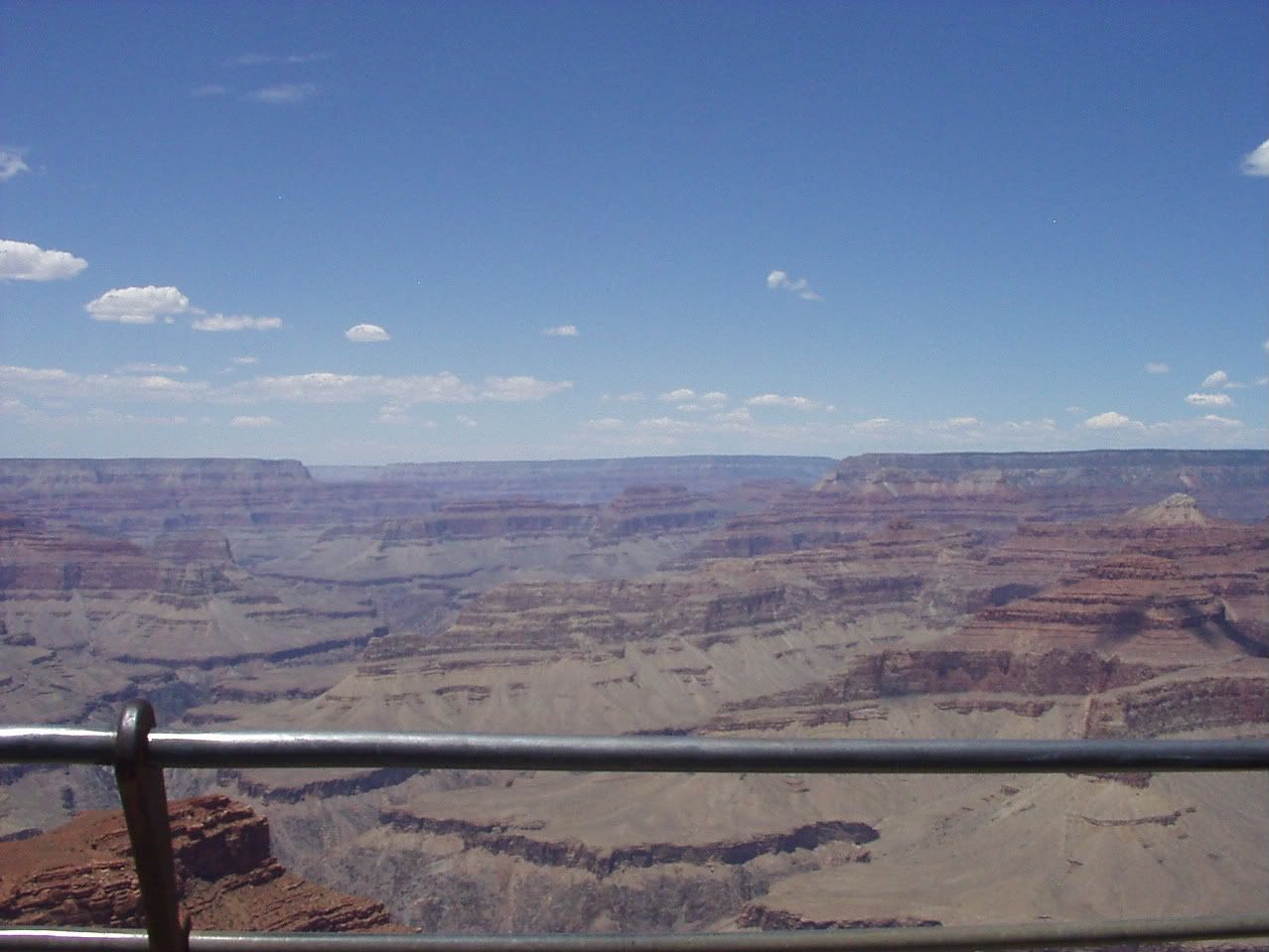 Nana and I went with friends, as their guests, to the
Train Collectors Association
Convention in Phoenix, Arizona. For about 1 week we rode buses, talked, rode and saw trains of all sizes in all sorts of settings along with the environs of Phoenix, Prescott, Jerome, Winslow, and points in between. Met many very nice folks. Ate much good food, or so I'm told. I don't eat much while traveling (with a couple of exceptions). Good diet for me but frustrating for some who travel with me. Finally arrived home safely on July 5th.
It all started with the flight from Dulles to Phoenix. We were fortunate to get a direct flight for this. While it was 3 hours 20 minutes in economy (we're cheap where it pays) it was over quickly. Checking in for the flight wasn't as bad as last time, taking a whole 10 minutes (rather than a whole hour). No lines for some reason. Still,
security
at Dulles was a 43 minute wait in line for a 25 second trip through the metal detector. I am very glad I insisted that we get there a couple of hours early. It might have been much worse and there is no way to judge.
Arrival at the Phoenix airport, getting our bags and catching our shuttle,
Super Shuttle
which proved to indeed be "super", to the
J. W. Marriot at Desert Ridge
provided no drama. Bags were promptly on the conveyor and in our hands, we were directed by very friendly airport employees to the correct point and our shuttle arrived promptly. It was 110 degrees though (to heck with the "dry heat" concept!) which was a shock to us. We rapidly got over it though.
The hotel room was wonderful and not overpriced. They can do this because they milk you in a hundred other ways. As they told one of the other conventioneers, "this isn't a hotel, it is a RESORT!" Nothing is free in the resort. There was one soda vending machine hidden away on the 5th floor ($1.50 each). This is important info to those of us "addicted" to sodas rather than coffee. Sodas elsewhere in the resort were $2-$3 and the shuttle wouldn't take you to any place but the nearest edge of the mall which was part of the Desert Ridge development! There were 9 restaurants and 6 pools (which we had no time to enjoy) and, of course, room service.
Verde Valley on the
Verde Canyon Railroad
- This was a nice ride behind an FP7 diesel unit up the Verde River valley from Clarkdale to Perkinsville and return. Saw desert, cliff dwellings, an archaeological dig in a cave and lovely downtown Perkinsville. Bit of a ride on the bus.
Grand Canyon on the
Grand Canyon Railway
- Back on the bus to Williams to ride the Grand Canyon Railway in the Bright Angel car (with Mimi) to the Grand Canyon National Park and then up to see the view from the south rim. We did see some longhorns and a very large bull elk. The Grand Canyon? Big hole. We'd seen the canyon from a way up north in
Canyonlands National Park
. I thought that was prettier due to the rock colors there and more impressive because at Dead Horse Point you see the canyon all around you. Granted that was the Green River (a tributary) but, still, impressive. We'd also rafted on the Colorado River. Nana wanted me to get on the
Grand Canyon Sky Walk
(due to my fear of heights) but it was a bit too far away to get to. "Missed" that opportunity! Had a box lunch and then it was back on the train to the depot where we had dinner. The buffet was excellent and then, the bus home.
NOTE: The Grand Canyon Railway no longer runs steam to the Grand Canyon due to "environmental" concerns.
Prescott layouts and
Phippen Museum
- This was another trip up to Prescott to see train layouts. Some of these were simply awe inspiring. Suffice to say that some of these guys are REALLY into model railroading! Some have a rather quirky sense of humor as well. Most all were Lionel O gauge layouts. The Phippen Museum is a really nice, if small, museum dedicated to cowboy art and artists. I mostly go for the sculpture but the Navajo images by
Ray Swanson
were absolutely fantastic.
Meteor Crater
and
La Posada
- What can you say about a 4 hour bus ride to near Winslow to see THE crater? Not much. The part of the ride on I-40 paralleled or was on old route 66, the "mother road". Some interesting abandoned buildings there. The crater itself IS impressive but not so much after seeing the Grand Canyon. The remaining portion of the meteor itself is impressive. Rubbed it for good luck. Went to La Posada in Winslow. Had a turkey club sandwich for lunch and was toured around the hotel by the "
Harvey girls
". The hotel is very nice. I'd stop there. Rooms were a bit more expensive than at the resort but it was a very nice place, with history. You can sit outside and watch the trains go by all day and night. Averaged 5 an hour while we where there but I understand that before the recession they averaged 17 an hour! Then it was back on the bus for the loooong ride home.
Garden Railroads in Fountain Hills - This is exactly what it says. A day, shorter than most and a welcome break, in relatively close Fountain Hills seeing garden railroads. Of course the railroaders season is really winter for the rest of us. They did go to the effort to dig out some trains and put on a show. Very interesting. For me the most impressive was the 3/4 acre O scale layout with 2 trains of over 100 cars and an extensive water feature. We had lunch at Euro Pizza. Nice folks but no pizza for me. Kinda bummed me out.
La Corona Ranch Dinner and Mexican Rodeo
- After eating at Euro Pizza I was not quite looking forward to eating in the heat and seeing a rodeo in the heat. Wrong idea. It was indeed hot when we got there but the food was great. The service was great. The rodeo demonstration, not really a rodeo, was great, too. I was amazed that so many had never seen any kind of rodeo.
Live steam layout at the
Maricopa Live Steamers
- Alas, there was no live steam due to fire restrictions this time of year. However, there was much riding of the 7½-inch gauge railway behind the other engines. Everyone at the club was more than simply welcoming. This was the last of our tours and we left the next morning.
Again, Super Shuttle was on time (a bit early), and everything went off well. Security was not the long wait we had in Dulles but then this was on July 4th. I imagine that travel is down a bit on the 4th as both our planes had about 30 empty seats.
Direct flights aren't necessarily direct. Our return was so noted as a direct flight but required a plane change in Denver. Fortunately, we didn't have to cross the airport as we did one time, only needing to move up 4 gates and wait 2 hours. Still, I consider that we were charged extra for a "direct" flight to be theft. We might as well have changed flights as we could have done and been home on the 4th.
Security, what security? I don't see it. The TSA people seemed to be mostly speaking English as a second language. For those of you in Rio Linda that means they may be naturalized citizens but they aren't native born. Lots are MUSLIM as well. I find it odd that I, native born military retiree am being screened by a Muslim immigrée...
It is hot in Phoenix in the summer but we apparently acclimated quickly (we drank plenty of water) as we came home to chilly (79 degrees, 85% humidity) Washington, D.C.
Immediately upon arriving home we began preparations for our next trip just 2 days later...