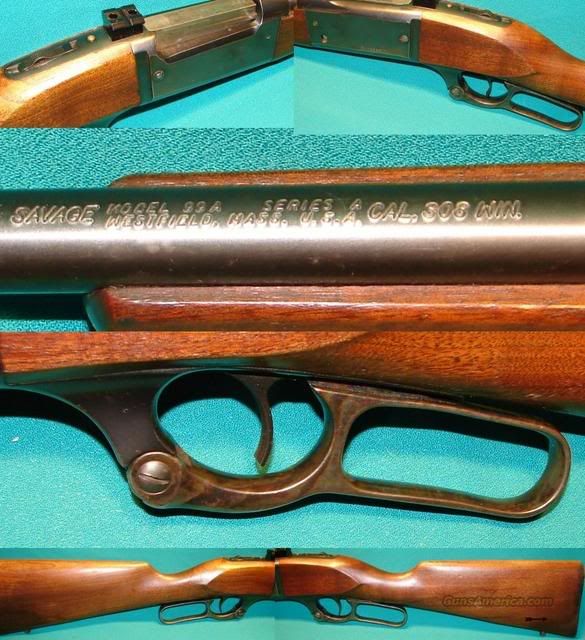 I recently posted that I was looking for one of these 1972-1984 era Savage 99As in .308 Winchester. I found one (the photo to the left) on
GunsAmerica.com
and here is the description:
We have a Savage model 99 Series A in 308 Winchester. The gun has the straight grip and tang safety. The bluing is very fine and the bore is like a mirror. The butt stock has a crack in it but it doesn't move when stressed. The wood finish is very fine and the sights are all original. $455 plus $35 shipping in a new hard case and UPS approved outer box.
I took a chance on the crack that it is really nothing or can be repaired and a I bought a box of Acraglas just in case. The gun is otherwise what I wanted. Even if the .308 isn't my cup of tea, it seems to me that this gun is the most likely candidate for conversion to .358 Winchester.
After a couple of back and forth e-mails I sent the money in the form of a USPS MO to Dust2Dollars in Willamina, OR on the Nov. 7th. The money and FFL were sent via Priority Mail and should have arrived in Oregon on Saturday, the 10th which it did. Mark of Dust 2 Dollars contacted me and let me know that they would ship on Monday and forward the details at that time. Things were looking good!
Of course Mark DID let me know that the rifle had shipped on Monday the 12th and was due to arrive the 19th and he gave me the tracking number. Now I only had to wait. Fortunately, this is the middle of hunting season.
On Monday morning, the 19th, I checked the UPS tracking info only to find that delivery will be delayed until the 20th. I'm thinking, "this is just terrible!" Then I go hunting.
The hunting didn't pan out (of course) but the waiting did and today I picked up my rifle at Nuckols Gun Works in Staunton. As described but not exactly as I expected. Expectations are born of the interpretation one has of the copy written for the advertisement.
The main thing is that the crack appears to have been major damage when the toe of the stock was damaged. HOWEVER, it appears that the repair is a good one. My feeling is, that IF the stock breaks, I can properly bed the new stock and properly fit the buttplate and to the top tang. The gun functions as it should (so far, I haven't fired it) and the location of the "crack" shouldn't have any bearing on accuracy. For the price, era in which it was made, and so forth, I feel it was a fair deal.

Links:
-
Savage99.com
References:
-
The Ninety-Nine - A History of the Savage Model 99 Rifle by Douglas P. Murray