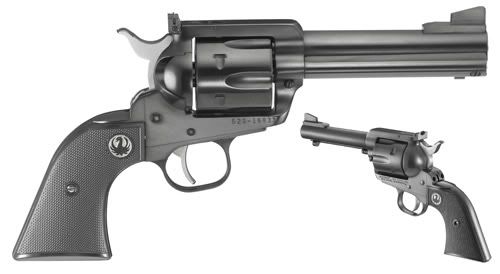 As I've previously noted,
Lipsey's
managed to convince
Ruger
to produce 2000
New Model Blackhawk Flattops in .44 Special
. These are built on the same frame as the 50th Anniversary .357 Magnum Flattop Blackhawk. I've wanted one for a long time and it is beyond me why Ruger was so slow to produce this gun when all the parts are readily produced with minimal tooling changes. Dittos for a .45 Colt version (which I will also buy should they become available).
This frame is what some refer to as the "medium" frame which is more the size of the Colt Single Action and noticeably smaller than the .44 Magnum frame. Closely approximating the original flattop frame the revolvers now use the "new model" lockwork which utilizes a transfer bar and permits safe carry of six rounds in the six chamber cylinder. Also, the steel (rather than aluminum as with the original flattops) grip frame is of the old XR3 shape and makes the the gun feel more like the Colt Single Action (note the new grip frame also contains a lock which you can ignore). Many, myself included, prefer this grip frame. I also like the black composite/plastic stocks. You might notice that Ruger is abandoning the long time use of wood for this type stock on many of the Blackhawk models. At least 1000 each of the 4-5/8" and 5-1/2" barreled guns will be produced and marketed through Lipsey's. After that who knows but I bet that if there is demonstrable demand there will be product to satisfy that demand.
Brian Pearce recently had an article published in
Handloader
magazine (#260) and in that article we learn that he and Lipsey's had been trying since 2005 to get Ruger to produce these guns. I have no doubt that John Taffin put in his two cents worth as well! Announced in late 2008, I immediately put in my order, as did many others. While these guns began shipping in mid-January 2009 many enthusiasts have had difficulty getting "theirs". Ruger announced in their
first-quarter 2009 stockholder's report
that they are/were 455,000+ units back ordered. Likely some of those guns are the Lipsey's flattops. Interestingly, some are resting unnoticed on dealers shelves. Look around, you might find one languishing forgotten in a dealer's display case.
That was my experience. Harassing my boss/employer starting as soon as I knew about the guns resulted in Lipsey's shipping a 5-1/2" gun (rather than the requested 4-5/8" gun). I immediately reordered and strongly reiterated that I wanted a 4-5/8" gun. It took awhile but another dealer,
Jim Engel of the Great Outdoors Gun Shop in Atwood, KS
, came through with a 4-5/8" gun before Lipsey's could ship. Despite the slightly higher cost to me, I was thrilled to get the second gun.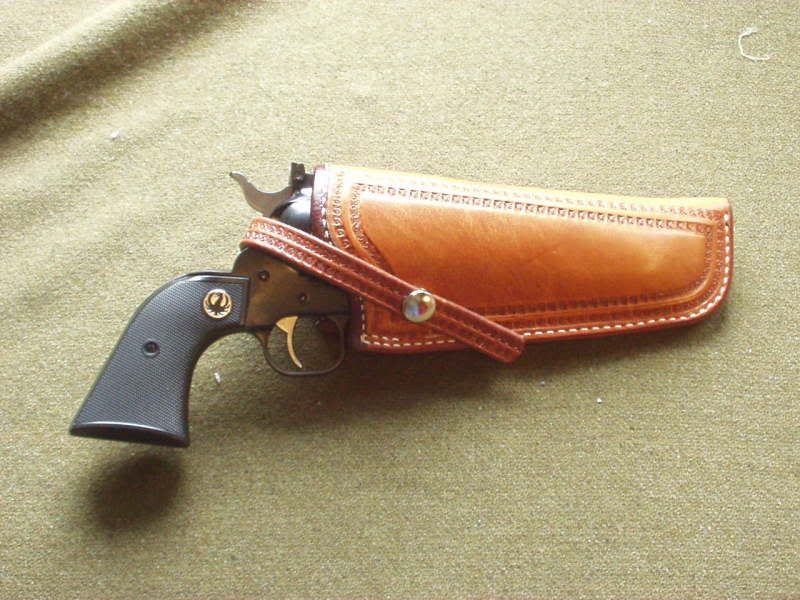 I knew, too, that quality holsters would be necessary to carry these fine revolvers in the field. I felt that they should be a Tom Threepersons type and since I didn't have any by
El Paso Saddlery
I ordered matching holsters for these two revolvers. Although the estimated wait was 8 weeks both holsters arrived together a mere 3 weeks after I placed my order.
Both holsters are beautiful. Lined and with border tooling they both perfectly fit their respective guns. To my mind this is about the best way to carry a revolver in the field.
Ammunition was not a problem despite the current ammunition shortages. I'd laid in some brass and bullets as well as powder and primers in anticipation of the release of these revolvers. I quickly loaded over 200 of the old Skeeter Skelton load of 7.5 gr. Unique under the 250 gr. Keith bullet from
Mount Baldy Bullets
. I expect that a wide range of bullets could be used, but one must ensure that the cartridge overall length doesn't exceed about 16.30". Brian Pearce says no longer than 1.637". This is due to the non-counterbored cylinder's 1.6120" length and allows for some bullet slippage or creep due to recoil. Additionally, Tim Sundles of
Buffalo Bore Ammunition
kindly sent me a box of his carefully crafted
.44 Special item 14B
. Buffalo Bore produces some mighty fine ammo and I carry is item 20C in my Colt Cobra. I know I can count on Buffalo Bore ammunition.
It has been difficult lately for me to find the time to go shooting. However, I was so excited that I did some impromptu shooting with these guns at my Mom's place. The targets were some discarded 8" cinderblock which had been painted white on one face. Used now to inhibit erosion on the bank above our farm pond, the white faces provided high contrast targets at 80 yards. After some off the cuff sight adjustments (neither gun came with the rear sight blade centered), I preceded to make little pieces of the big blocks. The guns were fun to shoot and recoil was not objectionable.
I'd like to note that I have no desire to shoot jacketed bullets in these revolvers. I see these as my personal means for a trip to the shooting past and experiencing what Elmer Keith experienced in using .44 Special guns. At least, in as much as I can given today's limitations, that is what I'll do.
Handloads for the .44 Special (as always the reader is responsible for the proper use of this data and I assume no responsibility for the actions of others. These loads are safe in my revolvers.)
| | | | | |
| --- | --- | --- | --- | --- |
| Bullet | Powder | Charge | Velocity | Energy |
| 250 gr. Keith | W231 | 6.0 gr. | 850 fps | |
| 250 gr. Keith | Unique | 7.5 gr. | 950 fps | |
| 250 gr. Keith | Power Pistol | 9.0 gr. | 1100 fps | |
| 250 gr. Keith | 2400 | 16.5 gr. | 1200 fps | |