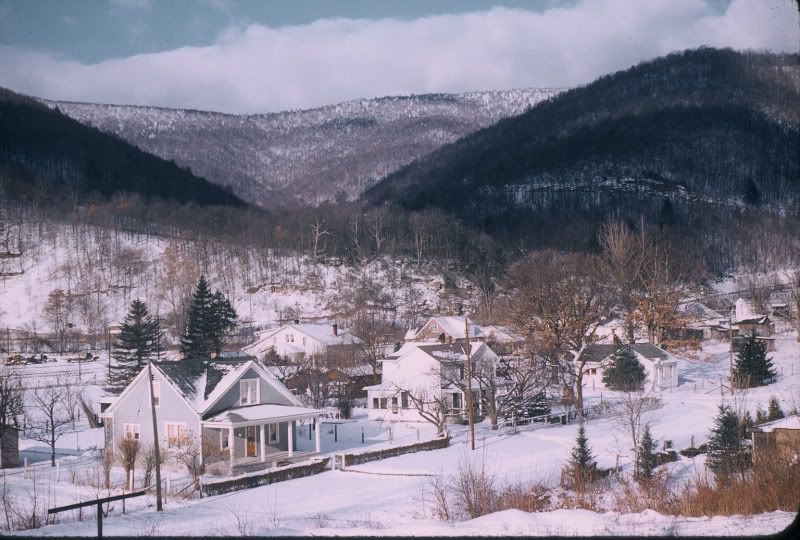 As you know, I've dabbled a bit in genealogy. I'm not looking for kings or queens in my tree but for the stories about the successful (obviously) struggles for survival by family members. There are many. Recently I came on new-to-me letters from my mother to her parents early in my life. Covering the period of 1954 through 1961 (so far), these letters paint a picture of a life now mostly faded from my memory. Oh, I remember some things. Snatches of toys, houses, nice people, haircuts, family visits, etc, but the details are missing.
Of course these aren't things that I could remember as most of this takes place in the first 6 years of my life and mostly in the first 3 years. The letters talk about experiences with the father-in-law's cows and frustrating waits for replies to job applications. They shed a new light on my mother's relationship with her parents. I think they might explain my acceptance of mild cuss words! So, what are the things I learned?
Like most people, my mother and father started life without much money. Both had just graduated college, I was already there, and Dad didn't yet have a job. A forester, he applied to both private firms and the government. When he got his job they moved blind to Dad's new job on the
Monongahela National Forest
in West Virginia. They drove south from Fly Creek, NY to Bartow, WV in Dad's 1955 Plymouth station wagon. Mom mentions stopping at a motel just north of Altoona and paying $8.00 for the night (with pay-as-you-go TV!).
We often say that Mom never met a stranger and her letters show that she quickly made friends among the other
Forest Service
families and the locals. She had no problem entrusting me to various ladies and apparently I got on well with them, too. She didn't like the cold in
Durbin
and
Bartow
and mentions it every time she describes a new house. She also mentions having to scrub down every house into which we moved (the coal dust?). She didn't like cleaning up the coal dust (I remember that).
An interesting story about the coal. People then didn't always buy from a regular supplier but apparently from some free-lancers who must have given a better price. This one fellow would drive along until he found an exposed seam of coal (and presumably exploited it as long as possible) and would simply chop out what he could. He then sold the coal in about 15 lb chunks. The user was the one who broke it up into using size. Mom says it either came in chunks or dust. I have heated my house with wood and know the effort it takes to manage a manually fed heating system. Imagine having to bust up a quantity of coal every week and then feed it to a furnace to have heat. Mom complained in one letter about the ground in dirt in the floor along the usual traffic paths inside her house. I imagine they were tracking the bituminous coal dust everywhere.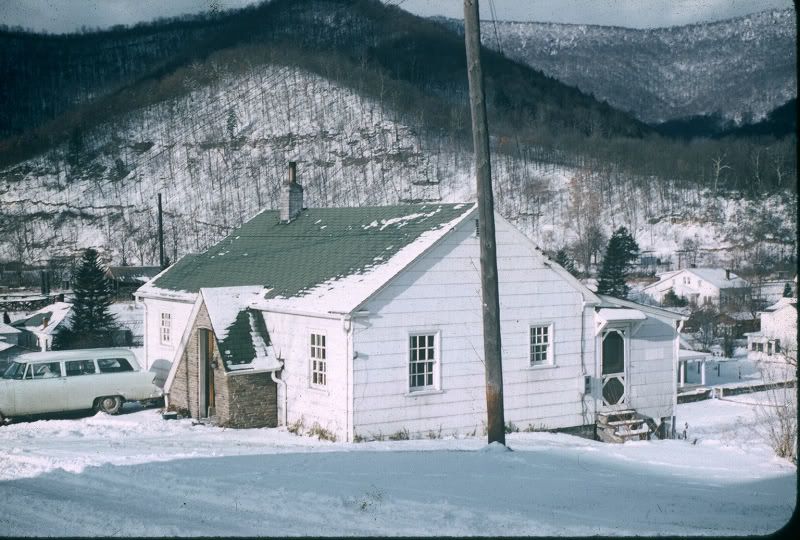 I believe this is that first rental house in Durbin (photo to the left and from which the first photo was taken). You can see Dad's Plymouth station wagon in the photo. It seems that snow was a recurrent theme in Mom (or Dad's) photos.
She also talks about being able to get bookcases (which she still has) and shipping furniture via
Railway Express
(REA) vs the "moving man". More about furniture, it was apparently difficult to find some things. Her parents dug into their attic stash and brought her some things. Among them is a bed still in her bedroom! Before the stuff arrived, 3-4 months after we had arrived, they apparently lived a very minimalist lifestyle!
Furniture wasn't the only thing difficult to get. My parents had a garden everywhere they could. Both were raised on farms in the northeast U.S. and I guess there were some expectations. In WV, they found they had to travel a ways to
Elkins
or
Charleston
to get meat and some other groceries.
One doesn't see this much anymore but when they first moved to West Virginia (WV) they got all their mail delivered through the Forest Service office. They apparently found a house in Durbin ("
As you enter Durbin from the east we are the second street on the right and the second house on the left beyond the first T street on that one.
") but they had a Forest Service paid phone on the premises.
I was surprised to discover that they had a rabbit for a while. However, the rabbit didn't move with us. It was apparent in the letters that Dad "won" that argument as Mom wanted to cart the rabbit along to the new house.
Mom talks about the various towns in which they lived.
Richwood
in 1958 was apparently a wonderful place (and I do remember some things). We lived at 21 Williams Avenue and then 20 Hill street. The two addresses aren't very far apart but apparently, as I mentioned earlier, the second house was much the warmer! If I'm remembering correctly, Mom was very comfortable here and I ran around outside fairly freely even though I was only 3 at the time. It seemed a wide open space to me then!
Richwood
seemed a big town to me I guess because I still remember a couple of things about the town. One is going to the shoe store and getting Red Goose shoes with the egg full of "stuff" kids like.
I seem to remember most of the stores being on main street. That was nifty because Richwood is partially on a hill side. On the uphill side you have a retaining wall about as high as the roof of a car and on the downhill side you can look down about 4 feet to the sidewalk and see most of the store fronts even over people walking by. One iconic Christmas memory I have is of the
Western Auto
store and its Christmas electric train display in the front window.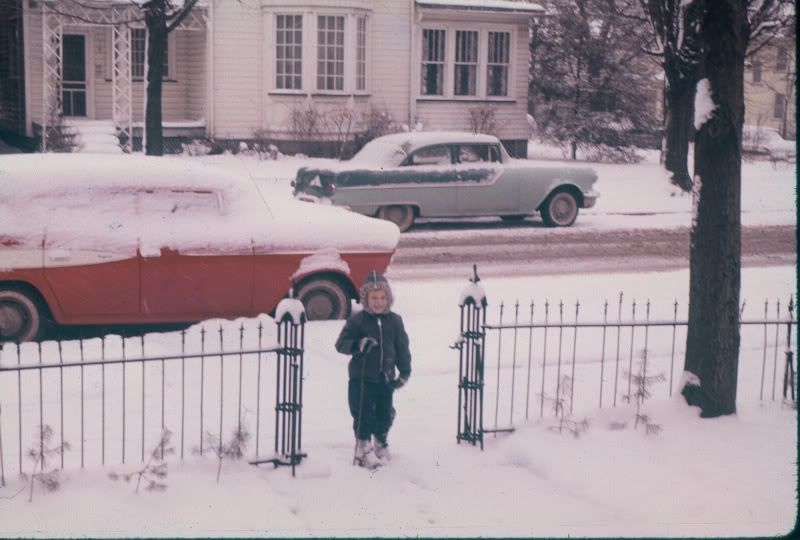 After that we moved to 216 First Street, Elkins. Then to Huntersville, WV and back to Elkins, this time at 200 Second Street. The view here is out the front door at the house on First Street in 1959. That's me and you can see our Rambler under that snow. Across the street the white house faces the cross street and is where our friends, the Blankenships, lived. I liked the boy, then, but can't remember his name. His sister is my age and Karen was a cute girl. Later, they moved to Blacksburg where Mr. Blankenship was postmaster (if I remember correctly). We saw them again when I was about 15. Karen was cuter to my mind then. The bad thing about moving so much is that, while you meet many wonderful people, you don't always get to know them or see them as often as you like.
There are sometimes little notes of interest to historians:
- On 3 February 1956, it was necessary to dynamite an ice jam at the Bartow bridge. Apparently it was "just in time" as the river level rose 1 foot from 8-4 on the 5th.
Individuals mentioned in the letters include:
- Henry Schermerhorn of Ausable Chasm, NY, Asst Ranger.
- Dick Feaster
- Pete Kincaid (next door neighbor), teletype operator for C&O Railroad
- Curt Moore
- "Lute" Mullenax, Forest Service scaler (WWI veteran)
"Lute" Mullenax is one of the veterans on the Monongahela, having worked intermittently on the Greenbrier District, since its beginning.
- Ted Mullenax, "Lute"'s brother and logger
- Mabel Wilmouth, as a Sunday school teacher
- Ken Sutherland, Asst. Ranger
- Link Oldaker
- Peachy Banton
- Lula Shiflett
- Dr. Pittman
- Jerry Finney
- Bob and Fran (Bronda, Braunda?) Gammons
- Dr. Hull (at whose funeral Mom played the organ)
- Sadie Gum
- Dr. Burner
- Mrs. Gragg, Judy and George Gragg her children
- Bob Deemer
- Barbara and Tim O'Keefe
- Donna Dorsey
- Ralph Smoot
- Roy Hipple
- Bill Arnold, Ranger White Sulphur District
- women's names Fraconia, Wawa, Robertine, Dallas...