Scarce Pair of Slotter & Co. "Peanut" Size Pistols
The Schlotterbeck (or, alternatively in some records, Slotterback) brothers, Charles (b. ca 1832), Frederick (b. ca. 1834) and Henry (b. ca. 1837), were apparently natives of Wurttemberg, Germany and had immigrated about 1855.
It is unclear if Charles ever worked for Henry Deringer but he is known to be working for A. J. Plate in San Francisco in 1860. After working for Henry Deringer, Henry and Frederick Schlotterbeck opened their own shop/factory in 1860 which operated at 400 Lynd Street, Philadelphia until about 1869. These former Deringer employees were involved in a patent infringement suit in 1863, due to Henry Deringer's statement that the brothers falsely interpreted authorization to use Deringer's name on their arms. They were, in fact, marking their guns "H. Deringer" and shipping them to A. J. Plate who was apparently desperate for the pistols to sell. Shortly after the court ruled in Deringer's favor, the brothers began putting out arms under their own company name, Slotter & Company, or marking guns "J. Deringer" for a partner who was reputedly a butcher or tailor who never set foot in the shop. There
was
a John Deringer, tailor, in Philadelphia (who was drafted to serve in the Civil War). Did he accept the deal in order to get the money to buy a substitute? That last is pure speculation. To continue, Slotter & Co. not only made Deringer type pistols but also muzzleloading percussion rifles and at least one breechloading rifle (shown here). The company ceased all activities about 1869 and the brothers moved to the west coast.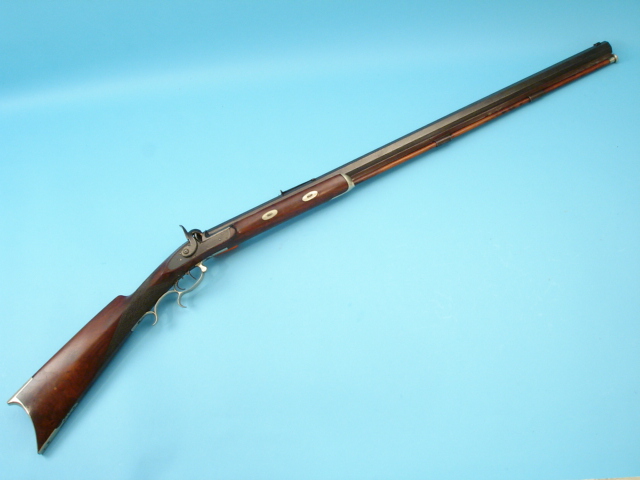 Slotter/ & Co. Phila marked rifle
Charles lived in San Francisco (on 1870 census) where he made rifles and later moved to Lakeport, CA with his wife Poline (Pauline, who also immigrated in 1855) and children including Henry (or Charles Henry) who was also a gunsmith. Charles was known for his quality firearms and held several patents on firearms (84224, 208765, and 233034). He was apparently in business in 1867 as this ad from 16 August 1867 attests.
VILLEGIA & SLOTTERBEK, GUN, RIFLE AND PISTOL makers, 730 Washington street, opposite the Plata, Messrs. JOSEPH VILLEGIA and CHARLES SLOTTERBEK beg to call the attention of their friends and the sportsmen of California to the fact that they have taken the above store, and purpose conducting it as a first- class establishment, where the entire wants of the Sportsmen can be accommodated. Messrs. V & S would call special attention to tho superiority of the Guns, Rifles and Pistols made under their supervision, and challenge competition in this particular; and are now making guns to order with the elaborate cold drawn steel barrels, which are so favorably known for their great strength and superior shooting powers. Repair of Firearms done at the shortest notice, and satisfaction guaranteed in all cases. Ammunition of all kinds constantly on hand.
Charles was also apparently well known as a Schutzen shooter (and we see yet another spelling of the family name).
During 1872 the National Rifle Club was organized by the members of the old "Deutsche Schuetzen Club" which had ceased to exist, Joseph Hug, Alois Schneider, Wm. Ehrenpfort, John Bach, George Schmidt, Chas. Slotterbek, Philo Jacoby and others were original members. Their shooting range was at Harbor View where they practiced every Sunday and held several public prize shootings.
But that isn't all that's out there on Charles.
Slotterbek Gun Shop - 185 N. Main Street
Charles Slotterbek located his gun shop in this building in 1872. The Chopsticks restaurant is the latest business to be housed in this same location that Charles Slotterbek made famous because of his superior ability as a gunsmith. Slotterbeck was probably the most famous of the California target rifle gun makers of the mid 1800's (see California Gunsmiths by Lawrence Shelton for more details). He was well known in the west for the exceptional quality of his rifles and pistols which are still highly prized and sought after by gun collectors today. He was born in Wurtemburg, Germany in 1832, immigrated to the United States and worked for Derringer in Philadelphia, where he learned all phases of pistol making. Not only a superb craftsman, he was an inventor and was granted patents for an off-set scope mount, a three barrel gun and a breach loading rifle. This is another example of a building that began as a wooden structure, but was later converted into brick due to the many fires that destroyed buildings in the late 1800's.
Charles Slotterbek died in Lakeport in 1886 and is buried in Hartley Cemetery.
Henry is shown on the 1880 census as living in Los Angeles, California to which he had moved in 1869-1870. It is difficult to track them in the census documents because of the many spellings of the family name. One can well understand why they used the name "Slotter" for their company. It was easy to spell! He apparently had a good business in Los Angeles (on Main Street and living on Eternity now Buena Vista Street?) until his death June 24, 1888. Well known for
customized Sharps rifles
, one occasionally comes on the market. Another note is that Ludwig (Louis) Wundhammer apparently took over his shop after working for him. By this discovery we also discover how Henry died. According to Michael Petrov,
Wundhammer and Slotterbeck were at the rifle range where Slotterbeck was adjusting the front sight on a rifle when it discharged, striking him in the chest and killing him.
Mr. Petrov also reports that
Slotterbeck bought out the business from the founding gunsmith of LA, Henry Schaffer who retired in 1872 to grow flowers. The business went from Schaffer to Slotterbeck to Wundhammer to Ross King who later moved the shop to Roseburg, OR. Then in 1936 King retired and sold out to a young man by the name of P. O. Ackley.
We know that P. O. Ackley mentored Mike Bellm... And so it goes.
Frederick apparently moved to Seattle, Washington. He was working to establish his gunsmith business there when he died November 14, 1873.
This
.38 RF Long caliber, 24" octagonal barrel marked Slotter & Co, Philadelphia. Unusual hammer-activated breech system. Marked on top of breechblock W. Morgenstern Patent W.P. Wilstach. Breechblock and frame are nicely engraved, German silver furniture, patchbox, inlays. Finely checkered buttstock and forearm with silver tip.
Slotter rifle action
That is about the sum total of what I could quickly discover about this gunmaker. Why the interest? Today Nuckols Gun Works took in this "Slotter & Co. of Phila" marked rifle. The barrel appears to be of iron, is 28" long and 7/8" across the flats and is .22 caliber. The action appears to be of gun metal. The forward trigger releases a locking bolt allowing the action to tip open similar to the Wesson tip-up rifle. The breech is extremely simple. The hammer has a ridge laterally across its face which functions as the firing pin. When fully forward, the top face of the hammer (above this firing "pin" ridge) serves to hold the cartridge in place but there is some space between the lower face and the case head. It is likely that the case will split there, and has judging by the appearance of the face and surrounding material. I didn't get to look inside but the trigger mechanism seems very simple. The buttstock follows earlier muzzleloading conventions and the toe is broken.

It seems to me that this was a standard production item although it might have been a prototype or one-off. The standing breech portion seems to have been crudely rebrazed sometime later during the gun's life because the rest of the construction is as refined as the rest of Slotter & Company's production. I think it was made relatively early in the cartridge era, about the end of the Civil War or circa 1865. I'm sure that this system won't be at all acceptable with a cartridge larger than a .22 Short. Still, it is clear that this gun was used and valued enough as a tool that an effort was made to repair it.

We have yet to find another example in our research but we will continue to look.
Wesson 2-trigger Tip-up Rifle
It has the appearance of but should not be confused with the Wesson Tip-up Rifle. They are not the same action.
Now I have some more and better photos (shown below)...
Overall view, note the broken toe of the stock and stock shape
Action close up, right side, hammer fully forward
Action close up, hammer fully cocked
Close up view of breech, hammer at half-cock, note brazed on " standing breech"
Only manufacturer's mark, top tang
Action bottom and bottom tang. You can see the tang and spring screws here. Note moderate engraving.
Pulling forward trigger releases locking hook and allows action to open.
Links:
-
Guns of the Old West: An Illustrated Guide
By Charles Edward Chapel
-
IMPROVEMENT IN TELESCOPE ATTACHMENTS FOR FIRE-ARMS
Mounting Rifle Sights — Chas. Slotterbeck, Lakeport, Lake Co., Cal. This invention
relates to a novel method of mounting telescopic sights upon breech-loading rifles, so that the telescope will not interfere with the action of the breech mechanism or the loading of the gun, nor displace or interfere with the ordinary sight. In the ordinary method of attaching a telescope to a rifle, it is mounted over the center of the barrel, and thus displaces the ordinary open or globe sight. It also extends so far back over the small of the stock, that it is totally inapplicable to breechloading rifles of many description, and inconvenient upon any. This invention consists in the employment of a device by which the telescope can be accurately mounted without interfering with the ordinary sights, and at the same time be entirely out of the way of the breech mechanism.