11/26/08
It has been suggested that this may be a malicious photoshop joke. I hope so. I read one comment that compared
Lon Horiuchi
's endorsement of sniper rifles to Timothy McVeigh's endorsement of fertilizer. Tasteless at best. Click on the pic to get it full size.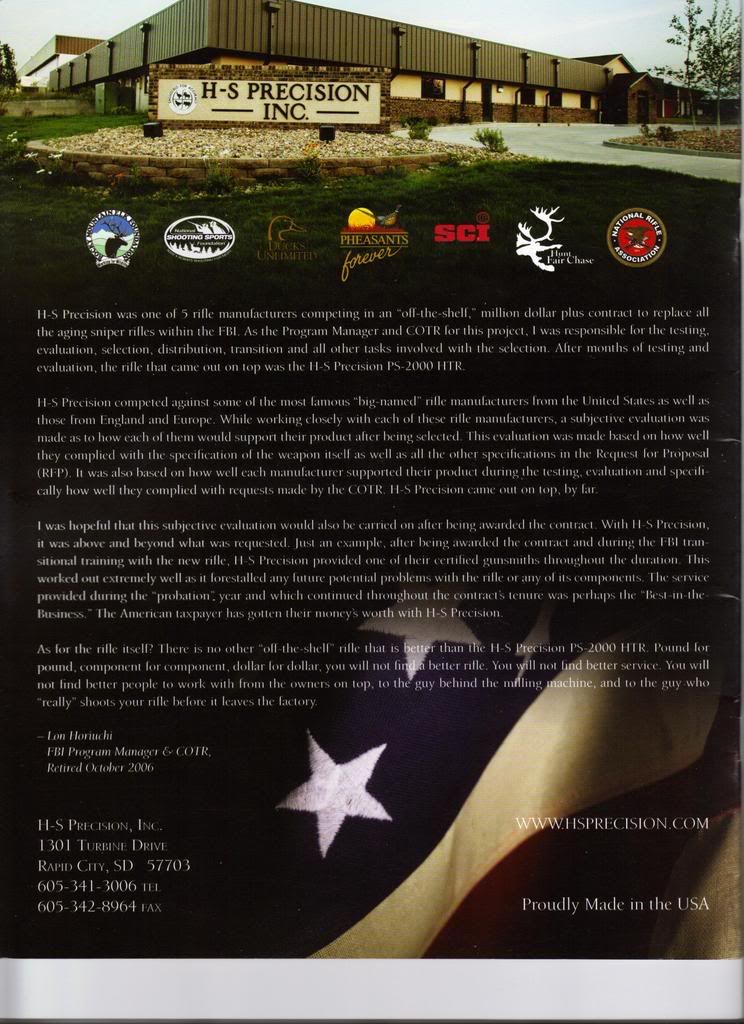 If you want to complain, contact info is:
H-S PRECISION
, INC.
1301 TURBINE DRIVE,
RAPID CITY, SD 57703
(605) 341-3006 TEL
(605) 342-8964 FAX
info@hsprecision.com
* * * * *
12/02/08
In keeping with my attempts to consolidate posts/entries updates will be provided in this post and the post republished on the update date.
Courtesy of
The War on Guns
update from Tommy Millner at Remington:

Because its thanksgiving and everyone is off, we have not made contact with HS. We have taken any reference to HS from our web site..

When you first emailed me I honestly did not recall horiuchi's name so you caught me unawares. I also do not read the blogs so the fact there was an issue came as a surpise.

In any event, HS makes a great product and we are a large customer of theirs. Why they would pick a super controversial spokesperson is beyond me. Doing this violates pure business common sense. Early next week we will use whatever persuasive powers at our disposal to get HS to do the right thing..

Do me a favor and tell those on the bolgs that Remington and I are now fully aware of the issue, in full agreement with the outrage, and will do what we can t exert pressure on HS to reverse course.
* * * * *
And the saga continues....
To Our Valued Customers:

H-S Precision has received comments relating to individual testimonials in our 2008 catalog. All of the testimonials focused on the quality, accuracy and customer service provided by H-S Precision.

The management of H-S Precision did not intend to offend anyone or create any type of controversy. We are revising our 2009 catalog and removing all product testimonials.

Sincerely,

The Management of H-S Precision
It seems to me that HS got the message, in part. They now know that they offended a number of their potential customers. It is unfortunate but I doubt they can honestly do much more than this. They knew who Horiuchi is and they went with his endorsement. It is now for you to decide if you will or won't patronize them. Certainly you can patronize Remington. With both Zumbo and HS they've stood for our rights.