I had wanted a .41 Mag since 1973 but competing wants and needs plus non-availability of cash or gun at one time intervened. It seemed so much better than the .357 Mag but not so intimidating as the .44 Mag and the .41 Mag ammo was available in the "police" load of 210 gr. at about 900 fps.
I had been thinking that while I preferred the XR3 grip frame of the early Ruger Singe-actions, I could take or leave the Old Model lockwork. However, use of the OM Ruger Bearcat and the USFA SAs has endeared the clickety-clack lockwork to my soul. So when I saw this OM .4-5/8" .41 Remington Magnum on Gunbroker.com with a $500 minimum bid I had to try for it. Well, I "won" it and for only $5 above the minimum bid! In short order I found the money (selling some unusable by me brass and other stuff) and sent the MO and FFL off. This gun was manufactured in 1969 and had the appearance of being unfired but unfortunately, it didn't come with a box. The stocks are odd in that they do not match and so I won't have any difficulty in replacing them, but with what I don't know. It certainly deserves better.
Fortunately, because of a previously owned .41 Magnum Thompson Contender barrel, I had dies, brass and ammo for the gun. What was my first load for this gun? Why 7 gr. of Unique under the
Mt. Baldy
provided 220 gr. Keith bullet for about 900 fps. Just what I wanted. How good is this load? Well the first 10 were capable of staying on the face of a 12 inch cinder block at 75-80 yards with no sight change. I'm really pleased. Of course, it will handle the load I use in the Contender, I just don't care to shoot that.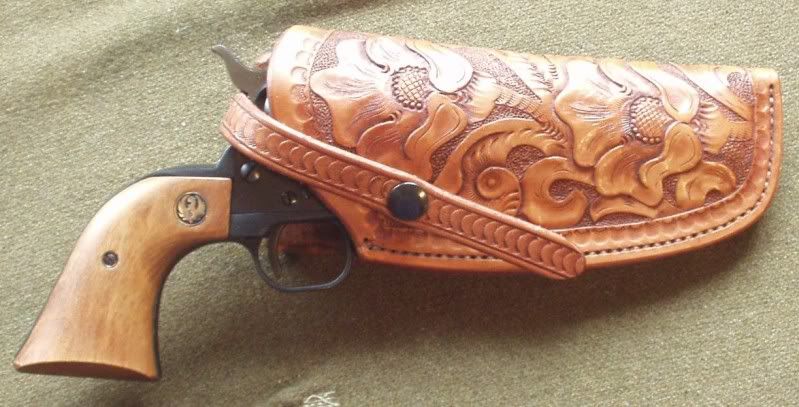 So, how to carry. It does fit my
Simply Rugged
Sourdough I got for my NM Ruger Vaquero and in which I've been carrying my USFA 4-3/4" SA but it wasn't really satisfactory with this gun. It demands a classier carry and that is what it got in the Richard Gittlein carved Tom Threepersons holster.