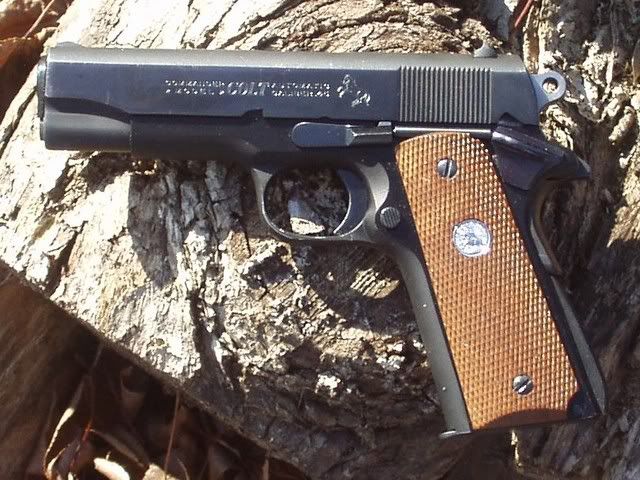 The Colt Commander was born in 1949 of a desire to produce a lighter version of the 1911A1 or Government Model. To that end the frame was made from Coltalloy. This did result in substantial weight savings of 12.5 ounces. Guns were produced in .45 ACP, .38 Super and 9mm Luger.
Some thought that the slightly more vigorous recoil was an indicator of reduced life expectancy for the frame. However, Skeeter Skelton did a published "torture" test by running 5000 rounds of ball through a Commander with nary a bobble. If I remember correctly the most difficult part of the test was loading the magazines.
This .45 ACP gun was made in 1969 and has endured a life mostly spent in a drawer. As is with true with an unboxed life in a drawer, there are some scratches and a nick or two. Frankly, though, in person it looks much better than my poor photographic skills can show you.
I took it to Mom's for a
quick
shooting test (it is cold today). It ran through several magazines of hardball without a bobble. It is pretty much as accurate as my Combat Commander. I got it home and field stripped it for a good cleaning. This gun hasn't been shot much, yet.
Of course I had to switch to a flat main spring housing of which I have an aluminum version in hand. I will install ASAP this evening.