The .32 H&R Magnum Single-Six has arrived and is as described. The fine fellow who sold the gun described it to a "T".
These 2 single-actions cover just about any task.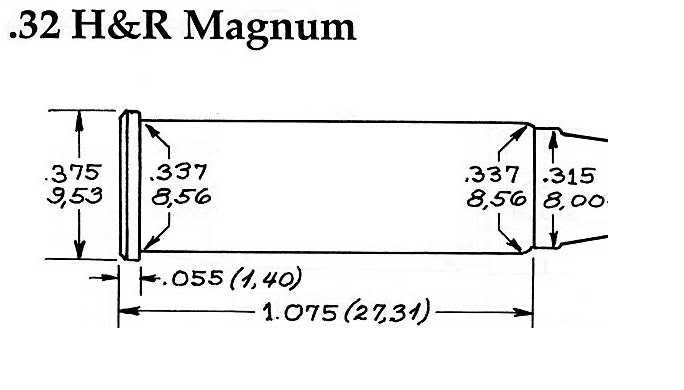 Well the first thing I needed to do was get some ammo. One NEEDS ammo after all. With the revolver I received about 100 Starline cases, a few 85 gr. Hornady XTP and several hundred 95 gr. cast bullets. I already had bought a box of the Sierra 90 gr. JHC and a box of the 100 gr. Hornady XTP. I've also ordered some 100 gr. Beartooth cast LBT style bullets. On hand, I had just a couple of the .32 S&W, about 60-70 (I forgot to count) .32 S&W Long and just 1 (yes ONE) .32 H&R Magnum case.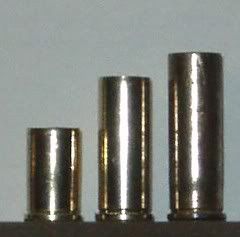 Left to Right - .32 S&W, .32 S&W Long and .32 H&R Mag cases showing differences in length.
I already have the necessary powders. Bullseye will obviously fill any light target load requirement and Unique and Lil'Gun will be tried for the heavier loads. I've got expectations for Lil'Gun!
It is likely that standard small pistol primers are all that will be required even for Lil'Gun. I'll have to see though as the .357 Mag requires the mag primers for some loads though not for others.
I also needed leather for the new guns and while I'm debating on an El Paso Saddlery Tom Threepersons for both of the 5½" Single-Sixs (I can use the same holster for both) I can carry the revolvers in the same
Simply Rugged
Alaskan Sourdough Pancake I got for the New Vaquero. Might not fit perfectly but works well!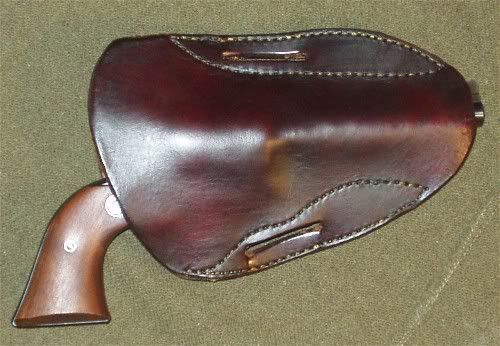 A Single-six in the Simply Rugged Holster