A waaaay back when I saw a Llama .380. A kinda copy of the Colt Government .45 but scaled down in size to handle the .380 cartridge, it had every appearance of being a neat gun and a wonderful training/transition pistol for people with small hands. Actually the model was Micro-Max. Like all Llamas, it was built in Spain. The .380 (I think they were also made in .22 LR and .32 ACP) had an 8-round capacity and weighed 24 ounces. Reports on these guns were mixed but I did shoot a couple enough to like them but never enough to actually spend money on them.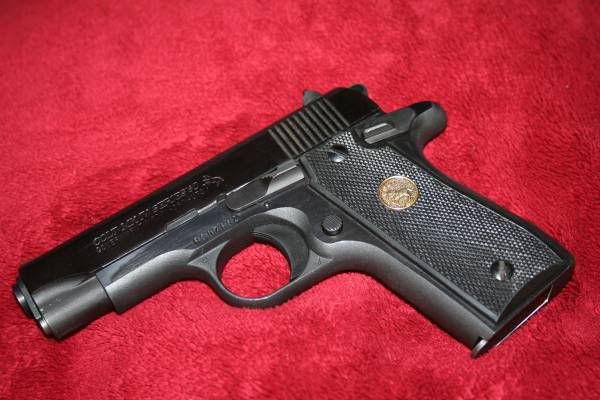 Colt introduced the .380 Government Model automatic pistols in 1984. I wanted one of them as well. Still, I couldn't quite bring myself to pay real (and limited) money for one. The local shop just had an new in box one come in but it immediately sold. The price? Now it is a "reasonable" $800. There is a demand for these guns, particularly the Mustang variant which is both smaller and lighter.
Enter the SIG Sauer P238 (Nitron) -
Reacting to many requests from the marketplace for a subcompact SIG SAUER pistol, engineers designed the new P238 as a smart looking, small handgun built with the same accuracy and reliability as large frame SIG SAUER pistols. With an overall length of just 5.5 inches a height of 3.96 inches, and weighing just under a pound, the SIG SAUER P238 is the ultimate firepower in an all metal frame concealed pistol. The P238 is built on an anodized alloy beavertail style frame with fluted aluminum grips for comfort and a secure hold during rapid-fire usage. The stainless steel slide features the popular SIG SAUER slide serrations and improves overall performance and accuracy. Additionally, the contrast or SIGLITE® Night Sights are removable and adjustable for windage. The sear and trigger return spring are redesigned to prevent spring over-ride of the ejector during assembly. Two finishes are available; Two-tone and corrosion resistant Nitron®. The new SIG SAUER P238 is shipped in a lockable hard case with one 6 round magazine at an MSRP starting at $515.00 for the Nitron® with contrasting sights.
Seems that somebody got the message and the price is right. My dealer tells me that street price will be something less than MSRP. Might have to get one of those...
As I write this .380 ACP (aka 9mm Korto/Corto/Court) ammo is in short supply. It seems that the owners of these mostly seldom shot guns are hoarding ammunition right along with actual shooters. Very interesting and the shortage occurred very quickly and somewhat unexpectedly. I think it is in part due to the fact that even many who reload other cartridges have never bothered to do so with this cartridge.
One company that produces .380 ACP not only has quite a bit on hand, but loads probably the best performing .380 ACP ammo available anywhere. That's
Buffalo Bore Ammunition
. Their product is available in either
100 gr. hardcast
or
90 gr. hollow-point
.
One of the coolest little .380 ACPs is the
Remington Model 51
. It FEELS good in the hand. I've shot one, once, a long time ago, but as I remember it it felt good in shooting. It looks modern but it is made with old time attention to detail. I think I read once that it undersold the Colt of that time (the 1908) by $5.00. That was a lot of money in 1930-something! These guns were also made in .32 ACP.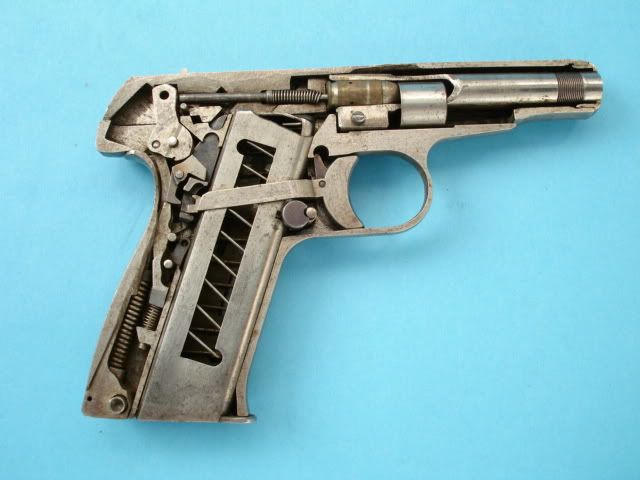 Today, a retired Virginia State Trooper brought one into the shop to see if we could get it apart for cleaning. It took a bit. We pushed the pin out the side then it was a free for all. Seems to me it takes both hands and a monkey to get the thing apart. You have to grasp the barrel AND slide and pull them apart and at the same time lift them from the frame. Must be a trick I don't know. At least I didn't know it until actually seeing the manual. When in doubt, read the directions. Taking out the breech block is another push and lift exercise. THEN, to get the barrel out one has to get the timing of lifting the breech end of the barrel out while compressing the action spring. I think. Like I said it was a free for all.
The Remington Society is doing research on these pistols and has a
research form
. If you own one you might consider adding to the body of knowledge on these guns buy letting them know some details about yours. They also have a
manual on the 51
.
The DB380 is the only gun that Diamondback Arms makes. It is a .380 ACP chambered small pistol designed to compete with the
Ruger LCP
,
Kel-Tec P3AT
,
Taurus PT738
,
S&W Bodyguard 380
,
Kahr P380
,
SIG P238
and
Magnum Research Micro Eagle
.
It is a striker fired, locked breech, .380 chambered, polymer framed pistol with an MSRP of $430. Likely street price will be something less. I've heard that it will actually retail for about $350 which is competitive with the LCP.
I haven't shot one but I have gotten to handle one a bit and dry fire it. It has several features going for it. The first is that the size is about perfect as it is small but I can easily get a grip on it. Also, the sights are actually usable. Neither would be great shakes for the gun if the trigger wasn't also lovely. It is no great trick to keep sights on target all the way through the trigger pull. This is the first pocketable .380 that I have actually considered buying.
An interesting aside. It was suggested that the Kel-Tec P3AT magazines would work in the DB380. While the baseplate is much smaller on the P3AT magazine, it does work in the DB380. By the way, the first magazines were made by Mecgar. Quality mags are needed in a semi-auto pistol and Mecgar makes a quality magazine. The pistols are now shipping with magazines of a different make but no problems with these magazines have been found.
Links:
-
Diamondback Firearms DB380 Semi-Auto .380 ACP Pocket Pistol
by Jeff Quinn