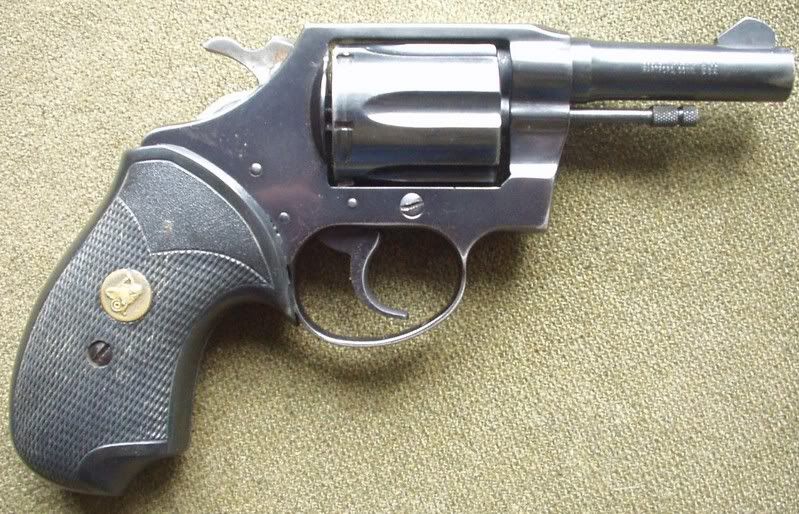 I've bought yet another revolver. This is the aforementioned 3" Detective Special, a B series it was produced in 1972. I like it. It locks up tight and the timing appears to be very good. Will try it out this afternoon!
Of course the Pachmayrs have got to go. They are not pleasing and don't suit me at all although they are very much like those for the J-frame S&Ws. This gun has the later short square butt and I think that I'd like it with the factory wood or even short, even with the butt grips. Maybe a Tyler-T grip adapter (a size 5 I believe). The sights are easy to see and the exposed ejection rod will likely not be a problem for me as I've no intention of pistol whipping anyone. Personally, I like the retro look.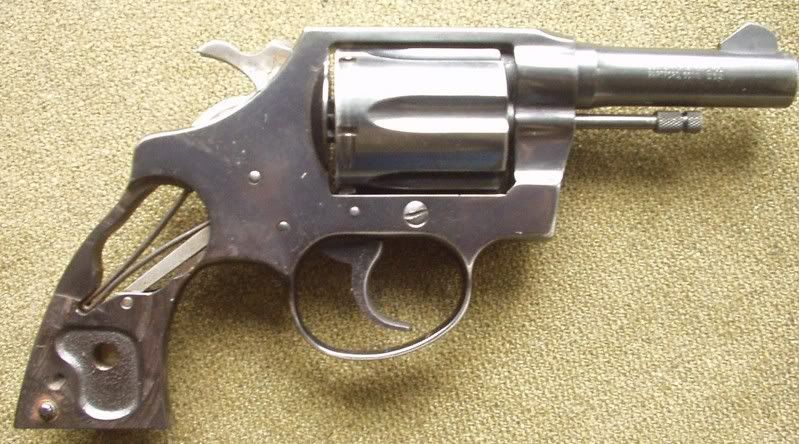 The photo to the right shows the gun, grips removed, to illustrate the grip style that became standard in, I think, 1966. I'm looking for factory wood and a Tyler-T for this gun. If you can help,
drop me an e-mail
.
I've never owned a Colt DA revolver and debated between this one and an Official Police, E frame I think, with 6" heavy barrel. That particular gun is timed perfectly and locks up solid. Consequentally of never owning a Colt, I don't know much about them, although I'm learning, and realizing my ignorance asked for recommendations for reference books. "Doc" O'Meara was kind enough to recommend 3 books for my edification and they are:
-
"Colt Firearms"
by James Serven
-
"A History of the Colt Revolver"
by Charles Haven and Frank Belden
-
"The Book of Colt Firearms"
by R. L. Wilson
I've ordered the first two, used, from two different booksellers for the munificent sum of $47 total, including shipping, however, the last is priced no less than $438! I'm sorry, but that isn't exactly going to happen for me!!! Can't wait until they come in. Lots of good reading I imagine.
Meanwhile, the search for factory wood grips will continue, and I will enjoy the revolver while I can.