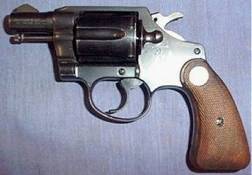 On my back that is! My recent acquisition of the S&W 34-1 and installation of the Tyler-T grip adapter has only whetted my appetite for snub guns. Yesterday, I was in my local
pusher
dealer and saw a 3" Colt Detective Special. Seems pretty good. Now I can't get it out of my head. Don't need another .38, I've got a 3" S&W M13, but I don't have a Colt, don't have a Detective Special and hardly ever see one with a 3" barrel. The monkey is grinning and strapping on his spurs. Please, have a prayer for me...
(
note: the illustration is of a 2" gun
.)
The gun I'm considering is: a 2nd generation, a 3" barrel, blue, 85-90% finish, Pachmayr grips, square butt (I took the grips off to look), timing and lockup are excellent. Price is $320 cash which would make it $338 out the door here.