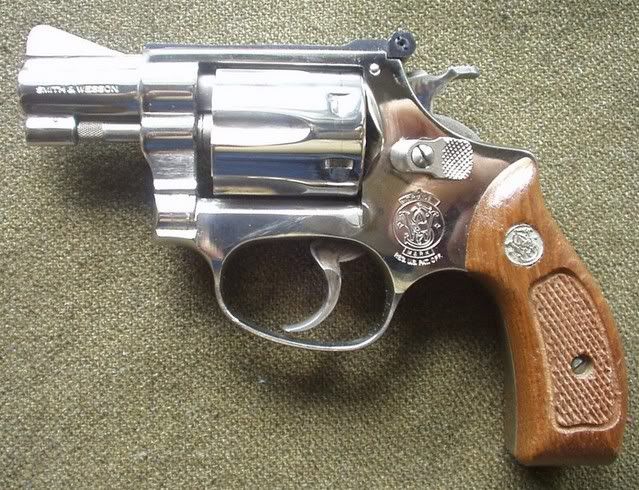 After reading the incomparable Xavier's Thoughts about the S&W 34-1 2" he had bought at a pawn shop, I had to have one. I can't say why exactly but it simply appealed to me. More than that, I became obsessed with having one. I've had several opportunities over the years and turned them all down, but now I
had
to have one. Of course, they are
now
generally priced out of this world. Recently, NIB blue guns have gone for $500+ and shooters have gone for $400+, the 63s and nickeled guns will go in the $450 range. I was most fortunate, after "settling" for a nickeled gun, to get mine for $325. Of course you have to add in shipping and transfer fees which brought it to $372. Still, that seems to be a pretty good price, all things considered. Not to worry, in 2 weeks I'll have forgotten the money and in 2 years it will be easily worth more (in case my heirs have to sell it).
I took it with me to Mom's this afternoon and with Colibris it was more than worrisome to a rampant walnut at 20 yards. A couple of cylinders full kept the errant nut rolling. Since then I've been carrying it loaded with Winchester PowerPoint but suitable test targets haven't come my way. Secured in the
Simply Rugged
Silver Dollar Pancake
it has ridden strong side and cross draw while doing yard work including mowing about 2 acres.
I will be replacing the Pachmayrs with factory grips for now (maybe some ebony later) and a Tyler T grip adapter as I like the compactness of those grips over the Pachmayr. The only problem with the Pachmayr is the bulk. With the added bulk, I might as well carry the Single Six.
---
Got to shoot it some more as I passed by the range but it fouled awfully quickly. I'll clean it up and give it another go.
---
On that day I was out and all the ammo I had was some of that Russian Junior stuff. After a couple of cylinder's full it was very hard to rotate. Being in a rush I just went on and later cleaned the gun. Life took over and until I got DeeBee's gun the other day I hadn't had a chance to shoot it. However, I wanted to compare the two and dug up another pair of RB stocks to replace the bananas I had on it and tried it both ways.
Gee, a clean gun and it was still hard to cock a couple of chambers... Ok, stop and look. Clearly there are two chambers that are binding on the barrel face. With the fouling and not being in a rush, it was clear to see what was happening. So...
This won't do. It needs to be repaired. I get out Kuhnhausen's book. I am convinced that I don't have the tools nor the talent to fix this. I also see that some fixes might be problematic with the nickeled gun.