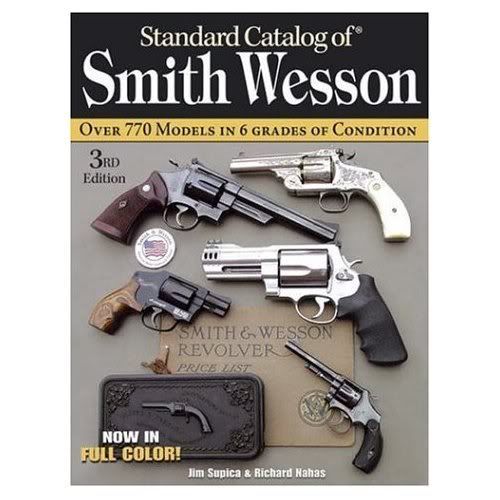 Title: Standard Catalog of Smith & Wesson
Author(s): Jim Supica and Richard Nahas
ISBN: 089689293X
Even if you have only a passing interest in Smith & Wesson firearms this is a must have book. Misters Supica and Nahas have done themselves proud on this 3rd edition with detailed explanations of terms and definitions including excellent illustrative photos. This is a BIG book too being oversize and 432 pages but not a one is wasted.
Now, I'm not knowledgeable enough to tell you that every model is described and pictured, that is why I got the book, but it certainly seems that way. Rifle, pistol and revolver, over 770 models as the cover notes. Also, variations and engineering & production changes are described listed chronologically with dates. Even belt buckles and such are listed. Of course there are serial number ranges by year. The book also provides prices by condition. While prices are always going to be subject to change, this provides at least a starting point for both buyers and sellers.
How well is this book organized? This book format should be duplicated for all manufacturers but I think Colts need the first. I've yet to find some bit of knowledge I need about the S&Ws that isn't given in this book. But organization isn't the only strong suit, it is well written and avoids being dull as most such catalogs tend to be.
The cost is $26.99 and free shipping from Amazon or you can buy it direct from the author and it
is
worth every penny.