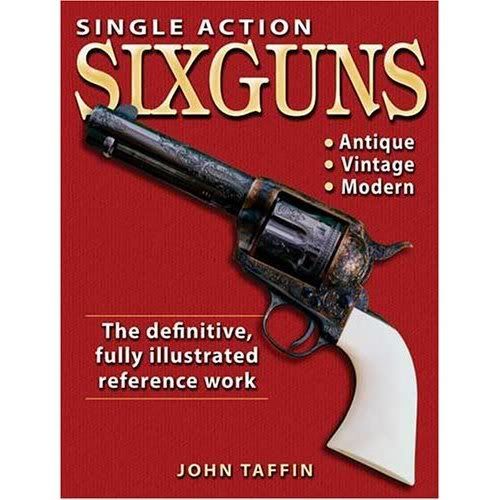 Title:
Single Action Sixguns
Author:
John Taffin
ISBN:
0873499530
The well-known, knowledgeable Mr. Taffin has stepped up and given us a book that is not only a erudite explanation of all things "sixgun" but a visual feast of fine firearms. Well written, illustrated, and printed, this is a book that every person seeking knowledge of revolvers should have.
Mr. Taffin picks up where the great Elmer Keith left off. He thoroughly covers the history of the single action revolver, common & not-so-common, modern & antique, as well as accessories such as leather, custom stocks (grips) and reloading information. He does this with a warm, inviting writing style unencumbered by wasted stlystic prose. The book has benefited from high production values with most of the 300+ superb photos in color and the publisher is to be applauded for not having taken the cheap route. This is a reference work that will go next to my copy of
Sixguns
by Elmer Keith.
The book, "SINGLE ACTION SIXGUNS" may be ordered direct from Mr. Taffin for $44. Mail to JOHN TAFFIN, PO BOX 45072, BOISE IDAHO 83711. You will NOT regret buying this book.