The Parker Brothers shotgun is another inherited from my maternal-grandfather. If I remember correctly and if I was told correctly, this was his father's gun (my great-grandfather). As I pick through this one as I did with the Ithaca I might find I am wrong. I believe this gun was made in 1915 and that would be consistent with great-grandfather's attaining some economic security. He might well have bought the gun new. All things considered, I take it easy on the old girl using lower pressure loads which are all I need for dove or grouse about all the game birds that I can hunt locally.
Like my Ithaca Flues, this gun rested in my grandfather's attic for over 30 years before it came to me 20 years ago. It was covered in fine rust and spots of white paint. This was so bad that Dad didn't realize it was a Parker and expressed great disappointment saying he'd always wanted a Parker. This is what I have after many hours of work with oil and 0000 steel wool. Fortunately, the angle of the bores was such that they were untouched.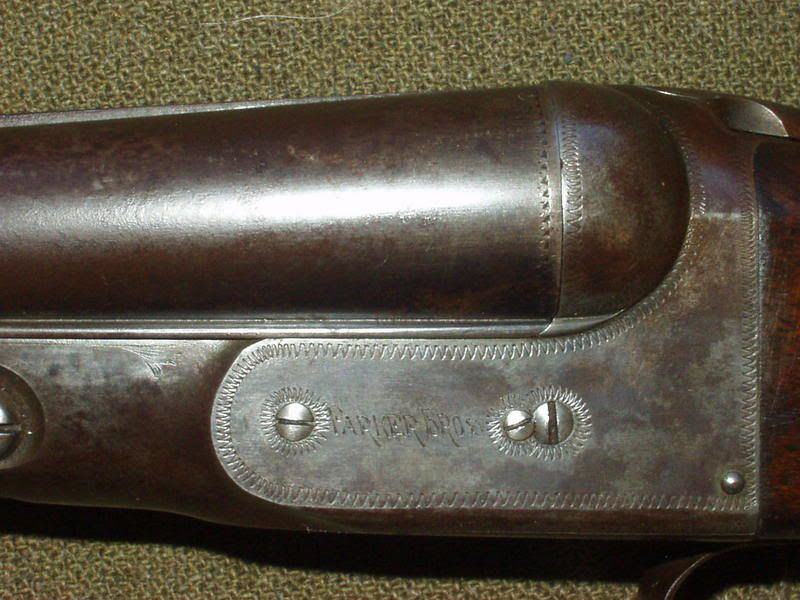 This is the left side of the gun. Clearly, it is a Parker Brothers gun. Both sides of the receiver are fairly free of rust and color case. I think this gun was used much more, perhaps by both father and son, and in the pursuit of ducks in and around Boston and South Braintree, MA where they lived. However, my grandparents were so uninterested in shooting or hunting that they would actively avoid discussion of the subject. I've no certain knowledge of the use of this gun.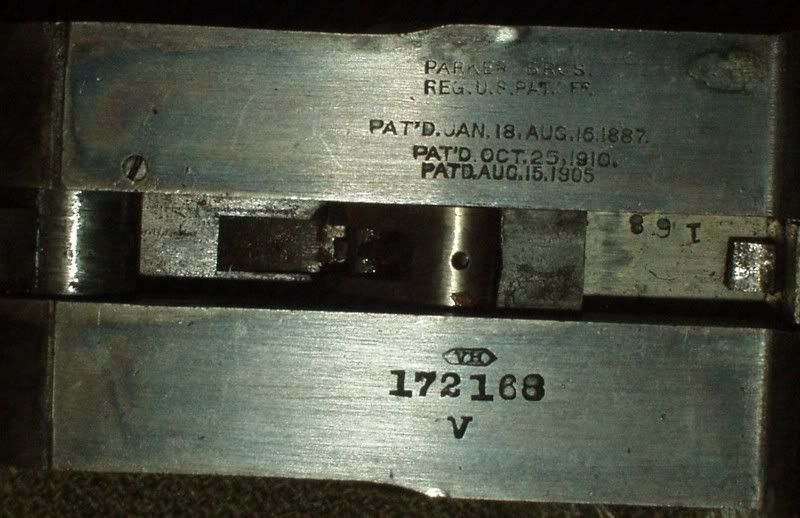 This is the water table for the Parker. As you can see the serial number and grade are clearly indicated. I'm not surprised that Great-Grandfather got a gun without ejectors and the next to lowest grade as this fits with the family MO of buying quality while avoiding unnecessary extras. At the top, you can also read that it is a Parker Bros gun and the patent dates, the latest of which is 1905. I believe the "V" below the serial number is for the Vulcan steel barrels.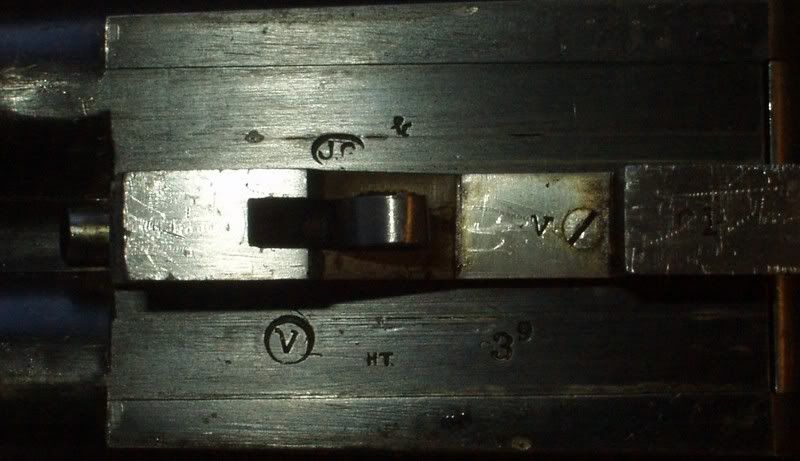 The Parker's breach is shown here. The "HT" and "JG" in oval appear to be inspectors or makers/assemblers marks. "3" with superscript "9" refers to the weight of the barrels which I believe would have been 3lbs 9 oz. One thing you can't see here is the mark indicating frame size. This is a 1-1/2 frame. I am not certain about the "V", "V" in circle, or other marks. Any assistance in deciphering these marks would certainly be appreciated. The barrels measure exactly 28" in length, are 12 ga. and apparently choked modified and full.
Here are some other photos of the gun. Top to bottom are the serial on the grip tang, the rib inscription, the forearm latch and the right side of the receiver.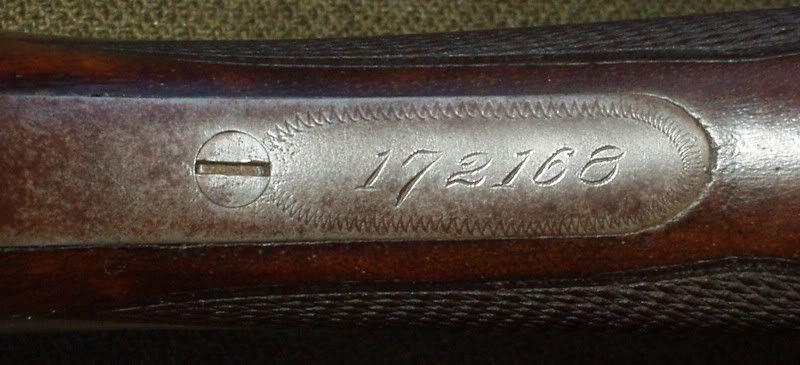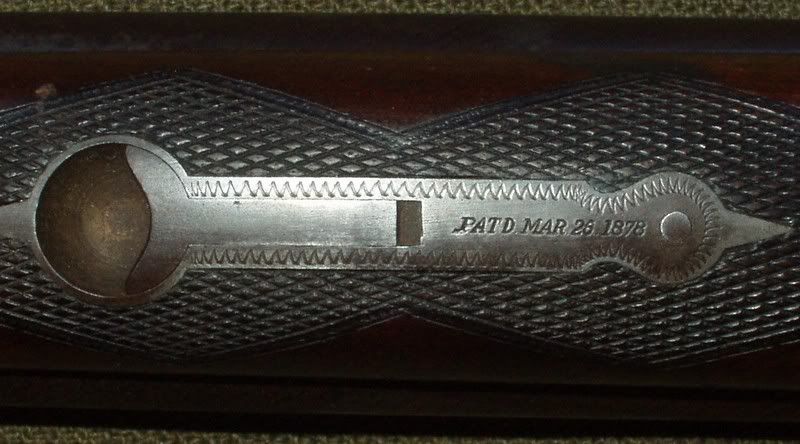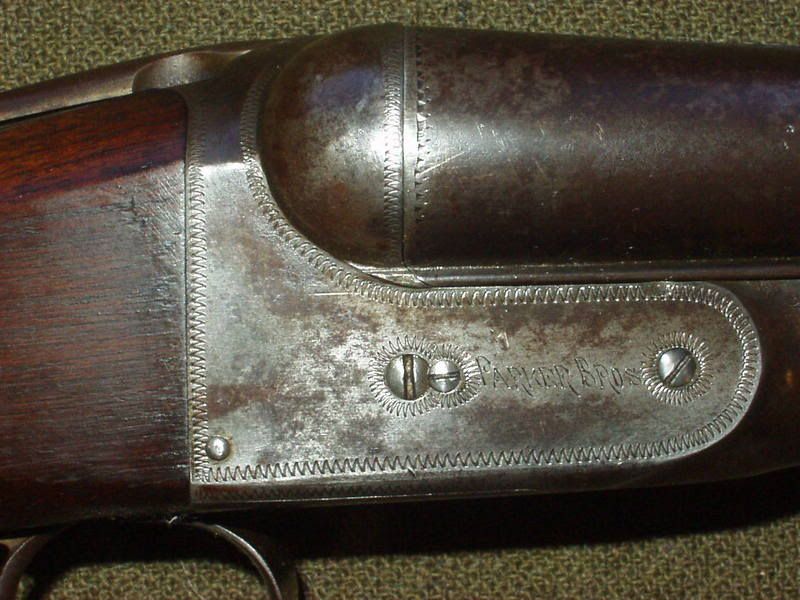 LINKS:
- Parker Gun Collectors Association Forum
- History of the City of Meriden, CT
Here's a bit about this shotgun's predecessor...