Here is she is, short, ugly, dirty blond, 20 gauge, and ready to do her duty. She was given to me by Grandpa, Dad's dad, and had once belonged to, been used by my Aunt Ginny. I used her to hunt crows, dove, quail, grouse, squirrel, deer, turkey, pigeons, and even groundhogs. This was also my skeet gun and put many rounds out at the little clay targets at Quail Run Skeet Range. Once I got my driver's license and started driving to school she was always in the boot of the Renault 10 that was Mom's car but that I drove.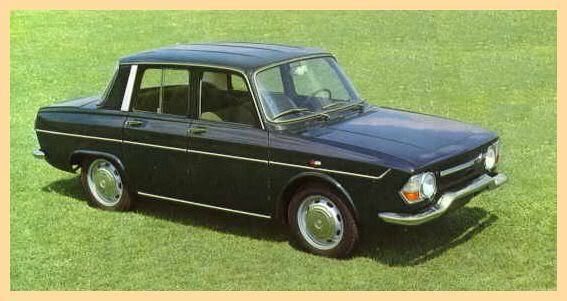 That car was the first I drove. 4 on the floor, the seats lay all the way back to make a bed (if I got to my hunting spot too early or came back too tired). The boot was in the front, the engine in the back, you could start it by cranking (if I left the lights on), and our Golden Retriever Belle loved to ride in the back seat. It would go like a bat out of Hades, corner like a sports car (in my mind), and was narrow enough to ride down the sides of ruts it couldn't straddle. It could go anywhere in snow or mud. And it washed up easy (I got good at that). A dark green with tan vinyl upholstery, it just seemed to fit my self-image. Best of all, I didn't have to pay to use it, only to put gas in it and it didn't take much. Although these two were inseparable, I do digress...
Then I went into the service. I bought a H&R Topper 12 ga. and had it modified to better suit my supposed military adventures and travels. I left home and pretty much didn't come back for 8 years. My tastes, interests, and circumstances had changed a lot in those 8 years. I was married, a father, and blissfully unaware of pending divorce. My brother was 8 and I thought that I'd pass the shotgun to him. Then he was killed, hit by a truck while he crossed the street. Change in life accelerated. Sometimes this old shotgun fed us. The divorce came to pass, and still, she provided some meals. Then, I was remarried. Things started to look up for us financially and an old article in Gun Digest started to weight heavily on my mind.
"Poor Man's Double" by Harold O. Davidson was a classic wherein the author described his lust for a classic double rifle and how that lust was assuaged by virtue of the shortening of a Parker Trojan 12 ga. to 20" barrel length and installation of the WGOS sight. I was smitten. Unfortunately, perhaps not, I had yet to receive the Parker VH you've already seen. So, when I did get it, I wasn't so lustful that I immediately attacked it with my handy hacksaw. Good thing. That gun is as it should be. But, old faithful, well, she fell under my gaze at the wrong time and her 28" barrels have indeed been shortened as you can see in the first photo. I also installed, rather roughly I'm embarassed to say, a thin rubber "recoil" pad. I even had sling swivel studs including the one that screws to the bottom rib but never installed it.
Yes, all choke is gone. As you can see in this photo of the muzzle, I got the muzzles square and clean and filled the space between. She patterns evenly with most ammo but you'd best get close with the 2-3/4" loads (she has a 2-3/4" chamber). #3 buck at the end of the hall shooting distance is a force to be reckoned with but the weight that is in those 8 inches of barrel now missing it is clear that those 8 inches were instrumental in holding the chambers clear of the standing breach. One must now hold the gun open to load her. So, let's do a review from stem to stern...
This is the receiver left. Springfield is model and this is one in the long line of 311 type shotguns. Made by the J. Stevens Arms Company of Chicopee Falls, Mass. U.S.A. According to the verbal history, this shotgun was bought used for my Aunt Ginny during the 1940s. That's a 10 year span though and I'm thinking it was about 1944-46. At the time there was no other shotgun in the house.
Unlike the water table on some shotguns, this is fairly devoid of information. There is, of course, the serial number. You can also see the original case color pretty well. I would have liked to have seen the gun new. I always liked the colors on this gun. There is an "8" on the other side. I've no idea what that means. There is also a funny "c" looking thing or open-sided square. Don't know what that is either. I looked, too. Since I got the gun I read everything that came to hand. Unfortunately, that was precious little. Then again, as I said before, Stevens apparently didn't see a need for guns at this price point.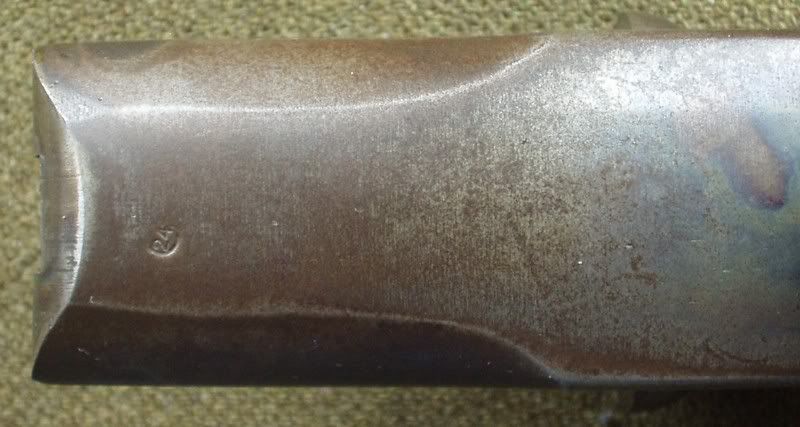 On the bottom of the receiver is this one lone mark. "24" in a circle. I've always wondered at the meaning of this lonesome mark. Maybe another assembler's mark? You can also see how the finish has been worn away here. Still, you can see a hint of the color case further to the rear. I'm afraid I'm responsible for at least some of that wear! The gun is a 20 gauge frame and it is easy to carry held in the right hand right here.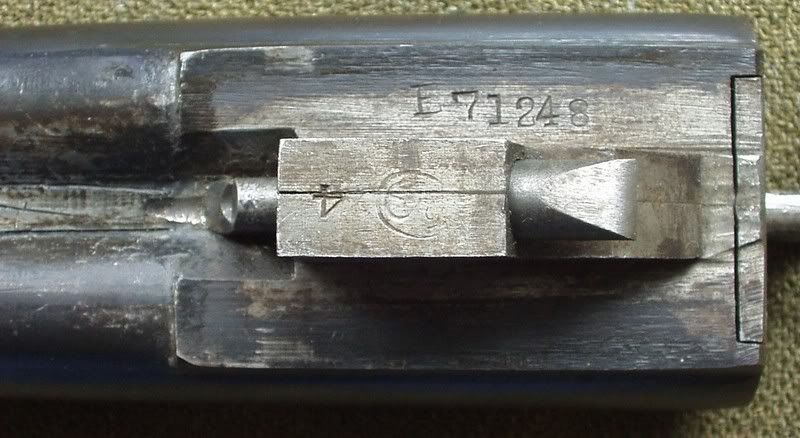 Neither does the barrel breach provide a wealth of information. Perhaps none was considered necessary for this portion of the market. Again the serial number is given in full. At least you can't lose the serial number on this gun very easily. It would be a full on effort to get rid of it. On the lump there is a "4" with no meaning known to me. Next to it is a poorly done oval stamp that has something inside which is illegible to me. You can't see it here but there is a "K" on the forearm stud. Assembler's marks?
On the barrels near the breach are stamped "Selected Forged Steel" and "Proof Tested 20 Gauge". This is pretty self-explanatory. It is pretty clear that there was no attempt to come up with some sort of fancy name for the steel used, neither are the chamber lengths given. It seems that in the past a gunner was supposed to and assumed to know something about the sport and his/her gun. You can see the rib well here and in the photo of the muzzles. This is a solid rib and the grooves, while not as pretty as the matting on the Winchester 21s, is effective.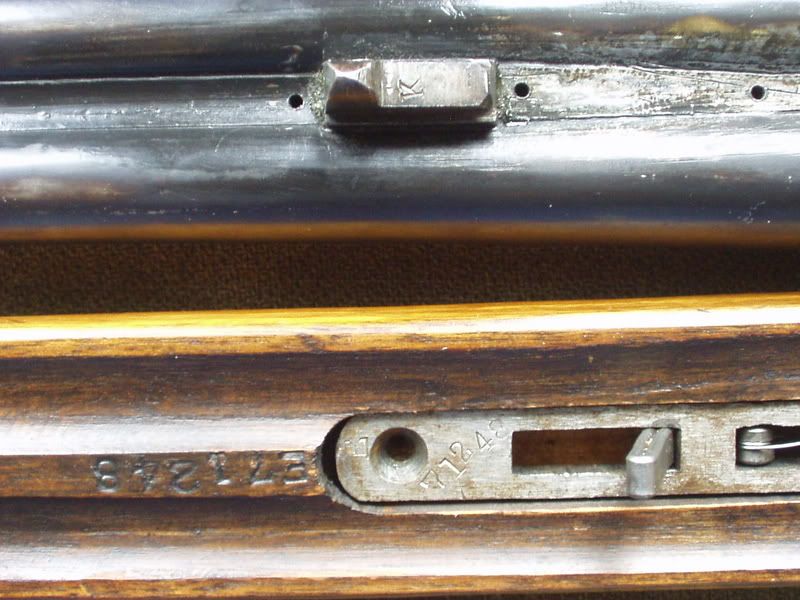 The final photo of the gun is this of the forearm and beneath the barrels. Both the forearm wood and iron are marked with the firearm serial number. This is a snap on forearm and so the iron contains a spring loaded lever which pushes the forearm back against the receiver and snaps it on to the barrels. One of the two screws which hold the forearm iron to the wood are missing. At first I didn't remember ever having seen it there. Then I thought, I've got that screw in my parts box. Indeed it was there and now it is safely back on the gun. Why or how I came to have it in the part box and not on the gun is a mystery.
The wood wasn't always as blond as this. I refinished the gun with Tru-oil soon after receiving it and it still looks good. I recently bought a spring set from Wolff that is supposed to make the gun open more easily (necessary now due to the shortened barrels) but have yet to install it. Maybe when I do the sling swivels...