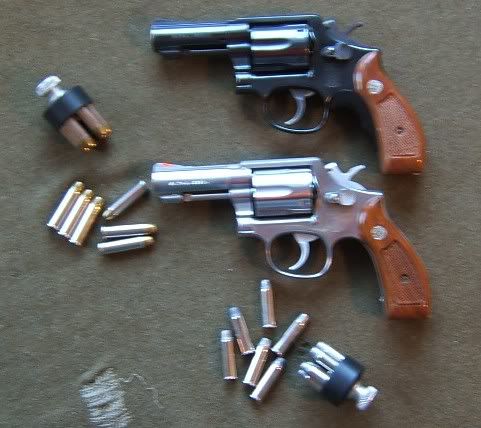 I think I really got excited about the Smith and Wesson Model 13 3" when I saw
Efrem Zimbalist Jr.
, as an
FBI Agent
, use a single shot to take out a fleeing felon with his gun at about 50 yards, shooting one-handed.
NOTE: I believe the show was shot on location at Fort Delaware, Wilmington, DE
Although I thought at that first viewing that he was using a J-frame Smith and Wesson and then a M13, I didn't doubt that it could be done. Life certainly has changed me over the years but never knowing which revolver was actually used didn't dim my enthusiasm. Somehow the fire had been lit and I wanted a 3" M13. Along about 1987 I got one.
The M13 can be thought of as a Model 10(K-frame) .357 Magnum, with fixed-sights and blue steel finish.
NOTE: Add adjustable sights and you have the Model 19.
There was a comparable stainless gun, the Model 65 but more about that later. The M13 was manufactured from 1974 to 1999. It was the issue revolver for the FBI for several years. Both the square-butt 4" barreled and round-butt 3" barreled versions were produced.
The M65 is the stainless version of the M13 (as previously noted) and was produced from 1972 to 2004. I find it hard to believe that the stainless version came first. One hardly ever sees these for sale in shops. I found out that working in a gun shop is the way to score one of these fine guns. Our shop has had two in the last 9 months and I got one of them.
I think these guns offer a good combination of usability and portability and have the added benefit of being able to utilize a wide range of factory ammunition. From .38 Special wadcutters to the 125 gr. .357 Magnum barn-burners, these guns will handle them all (even if your ears won't!).
Those .357 Magnums can hurt your hearing, wear protection.
These guns have a following and are appreciating in price better than any stock market investment (at least for the time being). An astute buyer with ready cash for investment can still sometimes find these guns for about $250-300 but more often they will be asking $350+. I think they are a bargain still because they are still less expensive than current factory production using MIM parts and suffering from the abomination of the internal lock.