The first .44 Special on the L-frame, the 696 was introduced in December 1996 with serial prefix CBS2xxx. Shipped in the blue plastic case and fitted with Uncle Mike's Combat rubber grips. The gun has adjustable rear and red ramp front sight. Barrel length is 3". The 5-shot cylinder will accept ammo up to about 1.63" in overall length. One can handload this a bit above factory pressure levels. I thought that the Skeeter Skelton load of 7.5 gr. Unique under a 250 gr. Keith bullet should be acceptable.
Glenn Fryxell thinks otherwise
and I'm inclined to take the hint and move in that direction. There is a lot to recommend 200 gr. at about 900-950 fps and it is much better to take care of these fine guns.
I was fortunate enough to get this representative example from a long-time dealer. The photo shown is his.
As you can see, this particular gun differs from the factory norm in a couple of aspects. First, it has been Magnaported. Hardly necessary for the .44 Special cartridge, this change does reduce the value of the gun to a collector but doesn't affect usefulness. The second change is in the stocks/grips. These would appear to give much the same feel as the old style magna stocks with a Tyler-T grip adapter but not quite so. They kinda expand fore and aft at the bottom giving the feeling of a walking cane handle. The gun apparently also had action work done by Magnaport. This could spoil me as I've never had a gun with other than a factory trigger. I've considered myself pretty inured to the standard trigger but this is so very nice.
I am fortunate in that this is a pre-MIM gun sans lock and with the hammer mounted firing pin. I am prejudiced against the internal locks. I also achieve an illogical comfort level when I see the hammer mounted firing pin. It just makes me feel good.
I recently saw a similar gun, without the Magnaporting, asking $950 on GunsAmerica.com. I got this gun for something less than that but it will be a wonderful representative example of an interesting platform for the .44 Special cartridge. Now to get a good holster for it...
Limited range testing with the "Skelton load" showed me that these stocks aren't quite the best for my use. I swapped on a pair of Pachmayr Compacs and those were somewhat better. The problem with the Smith and Wesson stocks that came with the gun is that they curve a bit to the front at the bottom of the grip. This seems to accentuate the feel of recoil.
Sights were right on and I was able to hit my favorite cinder-block face target at 80 yards for 5 of 5 shots. For those concerned about the "thin" forcing cone, no cracking can be seen. I didn't intend to use anything heavier than the Skelton load. That may change. I might use something a step below the Skelton load. I've had several people tell me that a regular diet of this load might not be in the best interest of the gun. I have a feeling they are correct. I think that loading 180-200 gr. something at 950 fps will be more than adequate for my purposes and better for the gun.
What I need to do now is find an appropriate bullet mold or supply. More later...
---
I've decided on the Gold Dot bullet and factory loads using that bullet. I got some in the Blazer aluminum cases and they are pretty darn nice. Will likely switch back to the original grips. These loads aren't quite as hot as even the Skeeter Load I tried at first.
Links:
-
Smith & Wesson Model 696 - .44 Special Revolver
-
AN ALL AROUND "FIELD REVOLVER"
-
The Arms Room - Sunday Smith #37: Model 696-1, 2000
-
Saint Wesson: S&W model 696 .44 Special
-
SMITH & WESSON'S WINNING PAIR
-
The .44 Special Revisited
by Glen E. Fryxell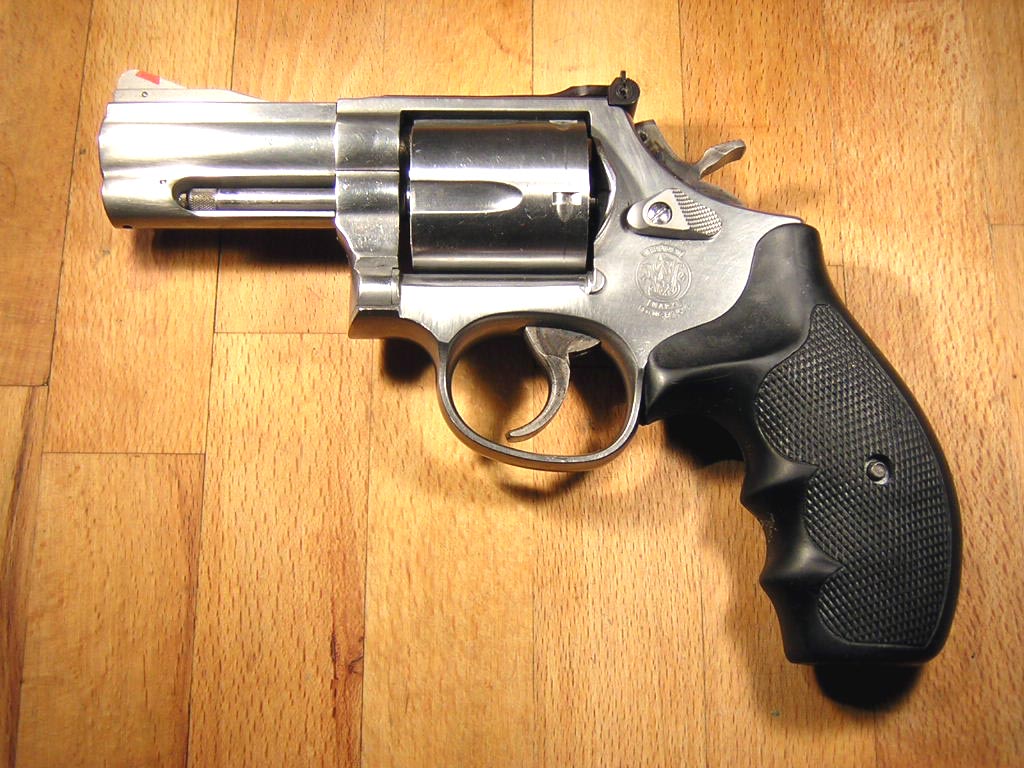 The 696 as it came from the factory.