Boy oh boy. I had no idea. Oh, I knew I had this knife or that knife that I had them here and there and so forth. But I never knew I had so darn many knives that I'd used and some I hadn't. A couple are family knives, heirloom pieces I never take to the field, some are souvenir pieces that came from who knows where, and many I've used over the years as I searced for a good knife for daily carry and as the industry has evolved over the last 30+ years.
RH-32
This Remington was made from 1933-1940, and is an RH(Remington Hunting)-32. Remington actually had their own factory from 1919-1940, in 1933 Dupont bought Rem. later it was sold to Pal when Remington decided to concentrate on their WWII contracts. It is indeed marked "RC-32" on the right ricasso and also has the "Dupont" in a oval trademark on the left ricasso. I don't really know much about this knife but I had thought that Dad may have bought this knife new sometime between 1947 and 1955. I think (not certain) that he had it from at least the time I was born. It is possible that he bought it used or that it was a gift at some time.
Marble's Ideal
This second heirloom knife is somewhat of a mystery. A very early leather & stag Marble's Ideal pattern, I believe that it was Uncle Dave Fancher's and passed to Grandpa. It passed to Dad when Grandpa died. Grandpa kept it in his garage in the original old pouch type sheath and dad replaced that sheath when he got the knife. I need to carefully clean it up to read the markings which are on the left ricasso only. There in a 3-line mark it is marked "M.S.A. CO" over "Gladstone" over "MICH U.S.A." (which is pretty faint in areas).
Buck 112s
These two Buck 112s are sort of the beginning of the knife industry we know today. They were "cutting edge" when I bought the top one while at the Presidio of Monterey in 1973. I found the other on the street just below the barracks one day and gave it to Dad when I came home for Christmas 1974. He used it and it was on the workbench when he died. These are good solid knives and have given good service over many years.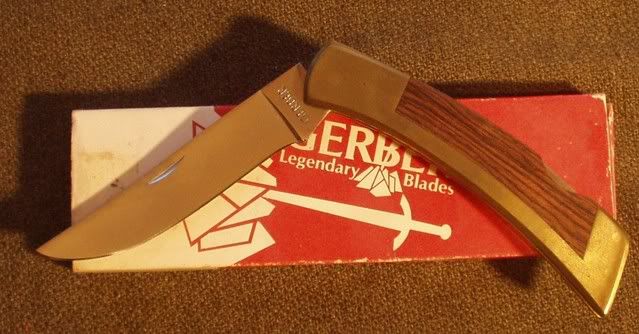 Gerber Sportsman II
I got this knife in 1974. A Gerber Sportsman II, I bought the knife on Cannery Row in Monterey, CA while I was stationed at the Presidio of Monterey and attending the Defense Language School. Regulations and laws were such then that this was an acceptable knife to carry daily. I liked it because it was thinner than the Buck 112. I carried it for quite a while until a fellow soldier borrowed it to cut up some cardboard boxes and somehow broke the blade. I sent the knife to Gerber and they replaced the blade. I put the knife away when it came back and and haven't used it since. That is the original box.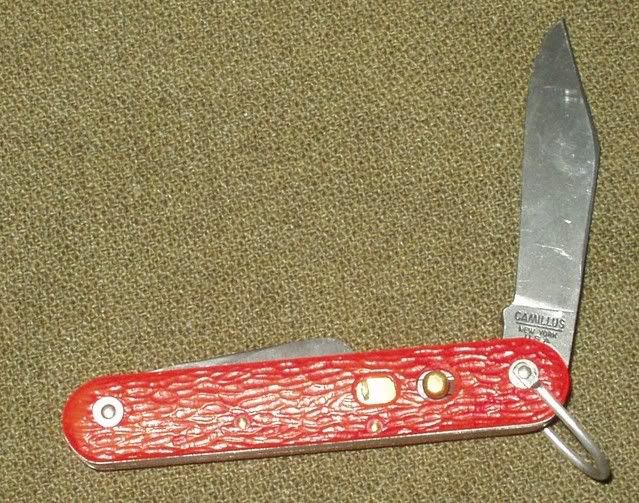 Parachutist's knife
This is a parachutist's knife. I've got two. Can't remember exactly where they came from but I must have been issued these and never used them but packed them up because I had my own knife. No, I was never a parachutist. Gives me the willies just to think of having to jump out of a perfectly good airplane. I hate heights but do what I've got to. Anyway, these are interesting as they are spring opening assisted. Made by Camillus (now defunct), these will probably appreciate over time.
Military 4-bladed utility
This standard US military 4-bladed utility knife was issue about 1986 and I carried it for several years in lieu of the Gerber. I have accumulated several of these knives but this is the earliest dated being 1979. This is also a Camillus. At $15 for many years, these are inexpensive but pretty good knives for daily use. One can do much much worse than to have and use one of these plain knives.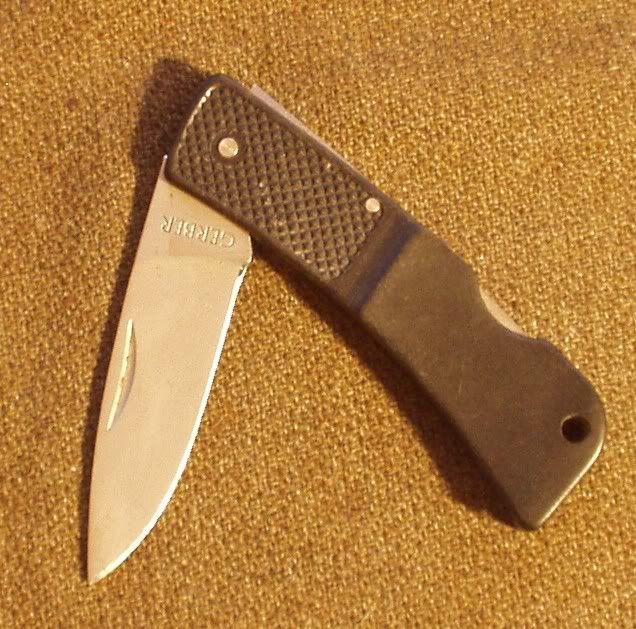 Gerber LST II
Please correct me if I'm wrong but I think that this is a Gerber LST II. I bought the knife while at PLDC at Camp Beauregard, Pineville, LA in 1986 to congratulate myself for graduating (I was distinguished honor grad!). I carried that knife on and off but particularly when in civilian clothes as it is very small, thin and light but has a good blade that holds an edge well. It has opened a bunch of packages! I think that this series was one of the first with the reinforced fiberglass handles as a fully functional part of the knife. There isn't much more to this knife than the blade, spring and handles.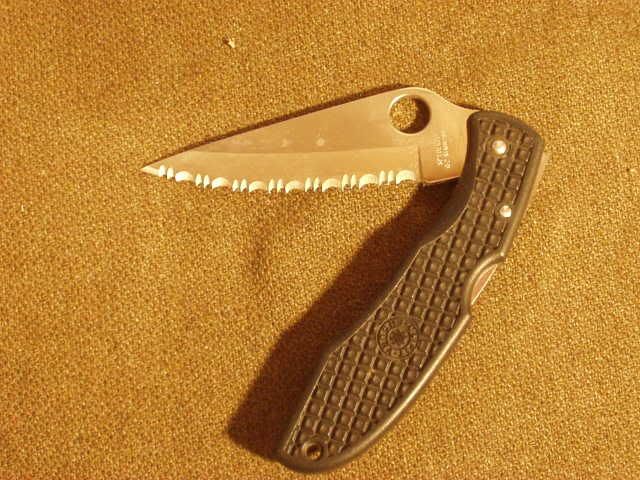 Spyderco Endura
This is the Spyderco Endura I carried for about 6-7 years. I mis-spoke when I said it was a combo edge. As you can see it is a full serrated edge. This was a just in case knife and I seldom used it to cut anything but carried it clipped into the top of the button tube on by BDU jacket. I felt that if I could I might be able to get to this knife even with my hands up. This was because some ne'er-do-wells had apparently, according to local law enforcement, thought of targeting my arms room. The blade length is too long to carry concealed in Virginia though. So, this knife now stays in the box.
Assorted Swiss Army Knives
I like the Swiss Army knives. This is just 3 of those that I have. I have 5 I've never used (or even opened the packages). I just get them. The first I ever got and carried was that GH Rose promotional knife. A driver for Rose gave me that knife when I was working for the Combat Development Command Mission Account at FT Hunter-Liggett, CA in 1976. I used that knife for several years and it carries some fond memories of the folks at the Mission Account. Sergeants Dickie and Napper were good mentors for my professional development. There were many others working there who were good people. All of us having families with other interests we didn't socialize much. The others I bought and carried until I found another configuration to try. These are quality knives at reasonable prices.
Gerber Guardian
This is a Gerber Guardian. I bought this knife during my tactical phase. OK, I can laugh about it now but at the time everybody had a "tactical" knife on their web gear. This thing has been lashed hither and yon and carried clipped to the belt under BDUs. However, it was used mostly to open MREs. The camo design was almost a requirement for a while then it seemed to switch to black. Interesting how the fashions change and, indeed, that is what this is, a fashion statement. There are much better knife designs.
I have more but those will have to wait until later.