While stationed in the Republic of Korea, I was often bored to tears. My children were small and I spent long hours on duty but not really doing anything. Lots of time to think you could say. Mostly I thought about shooting and read about shooting. I really felt that an air pistol would help me with my handgun shooting and cheaply (a real consideration). Of course I had some experience with the Crossman 130, a pump type, air pistol (the later 1377 is shown here) which I'd flat worn out! A spring air gun seemed the way to go but I wanted something more compact than the target type guns more generally available.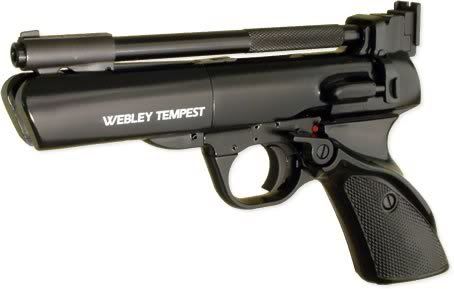 What seemed to work for me was the Webley Tempest
The latest version of the original barrel over cylinder design, that has made Webley pistols world famous. Rugged and compact the Webley Tempest features an adjustable rear sight and adjustable single stage trigger. With its authentic recoil the Tempest is ideal for general target shooting and firearm training. Available in either .177 or .22 calibre.



This has worked out pretty well for me since I bought the gun in 1980. I've shot a lot of pellets through the pistol without any serious maintenance and I think it has helped my shooting. I've even taken a couple of squirrels with it!
The trigger on the gun is a bit rough. It does take some adaptation but can be slightly improved. I've never bothered and think that either the trigger or I have gotten better over the years. The sights are simple as are the adjustments and these can give some moments of frustration when zeroing the pistol. However, mine has been durable and enjoyable and the compact design lends to a go anywhere practicability.

I have found that, for hunting, the pellet choice is critical. I've settled on the Beeman Silver Jet as the pest compromise of weight and penetration (critical in the hunting application) as the best hunting pellet. However, many different pellets can be used for shooting enjoyment. The relatively new Gamo PBR pellet might both increase velocity and penetration.
Links:
-
The Webley Tempest
-
The Webley Tempest
by Todd Cooper