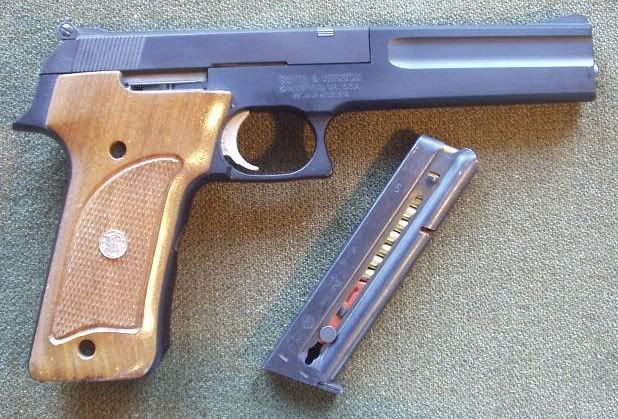 The Smith & Wesson 422 is an outgrowth/follow-on product from the Escort line of concealable .22 pistols. There was considerable charm to the unique Escort but it wasn't of a size to give adequate velocity to the .22 LR cartridge for hunters nor for a long enough sight radius for most shooters. There are all-stainless & alloy frames, long & short barrels, adjustable & fixed sights, 10 & 12 round magazines, plastic & wood stocks. The S&W 41 magazine is fully interchangeable. Wolff makes a reduced power recoil spring.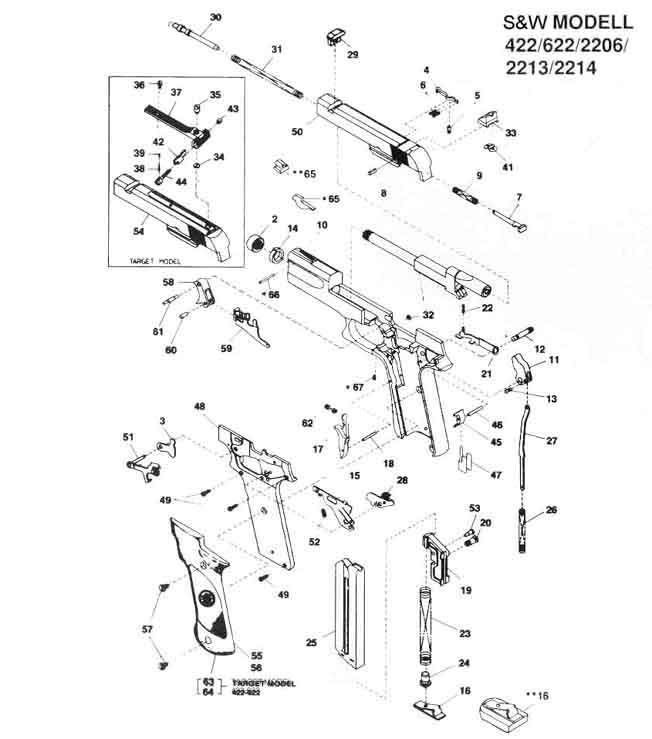 The action is unique in that the recoil spring is over the barrel so that the barrel sits low in relation to the hand and recoil, while mild, is more straight back and muzzle "flip" is reduced. The magazine release is absolutely ambidextrous as it is in the center of the forward grip frame. The safety is in the same position and identical in up front function to the Colt 1911 (I know, not INTERNALLY). The grip angle is similar to the Colt but not identical. The gun is easy to take down and clean. Some report lots of parts breakage but I haven't experienced that at all. At the time the pistol was introduced it was touted as being designed for modern manufacturing techniques to hold prices down but afterwards the Glock polymer frames were introduced and frame production became yet simpler, and cheaper. I think this is what pushed the gun out of production.
True, the Ruger .22 LR pistol is generally more accurate but not always and it is heavier except when compared to the all-stainless models. However, the 422's accuracy is fully squirrel capable as seen here. This is my favorite squirrel pistol to date and I have a Ruger MK II 10" barreled gun that shoots like a rifle. Why? Because it is light, because of how the safety works, and because it is sufficiently accurate for squirrels to 30 yards or so, about as far as I shoot at squirrels anyway. Both pistols and the Browning Buckmark have grips intended for full-sized/adult hands.
My favorite load for this pistol is the Winchester Dynapoint modified with a Hanned Line Small Game Bullet (SGB) tool to have a nice flat point. These kill squirrels dead with little to no meat loss and they are as accurate or more accurate than any other ammo out there in my pistol.
Prices vary widely due to the negative things said about the gun by the unknowing ranging from $75 to $300 depending on condition (of course) with some very good but dirty guns going for very low prices because the owner doesn't know how to take the gun down for cleaning. I've posted a quick
"how to" on assembly disassembly of the S&W 422
. Just click on the link to see it.