No I haven't run out of knives yet. Sorry about that!

Long knives fascinate most of us. If you need proof of that look at the humongous honkin' big knives that pay the bills for so many knife companies. They are all over the place. Well a machete is just another knife, but a long bladed one and with some utility to boot. I bought this Collins machete from Mrs. Kramer's antique store in Bridgewater, VA around about 1967-69. I'm not quite sure of the date, but it was in the spring as I was happy to get outside and use Dad's leather tools and thread to repair the scabbard. No, I couldn't repair where some previous user had dragged the sharp blade through the throat of the scabbard neatly cutting it about 2" deep. What I could do was to lock stitch the back of the scabbard and to clean it with saddle soap so that it could survive to today. Dad thought but didn't say out loud that I was crazy to pay $10 for it. He was right. $10 is about what one pays for a machete today! In 1969 that was a lot of money.
I've used this machete which is of much better quality than many of today's manufacture and with a neatly tooled scabbard to boot, and I've used it a lot. Still, it is in good condition. In many ways this is like a short sword and indeed there are still some who would use it as such. In any case the steel is of good quality easily taking an edge but holding that edge for a reasonable period.
I seldom use it anymore though. Mostly I use either an Army issue type or a Woodsman's Pal for such tasks. I'd rather preserve this old friend for another day. It is seldom enough that one finds a blade of this quality in this condition to waste in on vines and fence rows.
The Collins Company has a long and storied history so much so that a book was written on the subject,
Collins Machetes and Bowies: 1845 - 1965
, by Daniel Edward Henry which, because it is out of print, now sells for more than $95 a copy!
Next is a current, standard issue US Army machete. The 18" blade is about 1/8" thick and the handle is of plastic as is the sheath. Included on the sheath is a an integral sharpener. I've used this particular machete for about 15 years. These things are hell for stout and I've never seen one broken, yet. Mine was made by
Ontario
and is used as you can tell by the grime on the blade. This thing is great for reaching where the Woodman's Pal can't so that you can avoid spines and stickers. I don't care how tough you might think you are spines and stickers can be really irritating so why put up with such if you don't have to!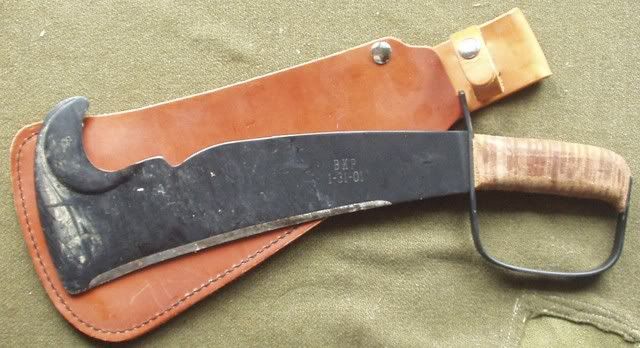 The
Woodman's Pal
is generally the finest general purpose "machete" out there. From their site is this short history of the tool:
The History of the Woodman's Pal®

Frederick Ehrsam was not only an expert on edge tools used throughout the world. By the time he settled in Pennsylvania, in the 1930's, the Swiss National was also an experienced architect, artist, engineer, manufacturer, and woodsman.

Over the next ten years, all these skills would be used in the creation of a tool that would eventually influence modern forest and land management.

Professionals in the forest and field relied heavily on the machete for clearing brush and blazing trails. Other tools were also needed to thin, trim, chop, and prune.

Frederick Ehrsam saw the need for a single implement that could not only perform the task of each as well or better, but could eliminate drawbacks like awkward weight or bulk, lack of balance or versatility, and designs unsafe for the inexperienced user. In 1941, Frederick Ehrsam introduced the Woodman's Pal®. Professionals in forestry, agriculture, and horticulture quickly recognized it as a historic achievement.

This new tool did not go unnoticed by the US Military. The Woodman's Pal® or "LC-14-B" in military terms, was standard issue from the early part of World War II through Desert Storm. G.I.'s and the US Army Signal Corp. relied heavily on the Woodman's Pal for land clearing operations. At the time of the Vietnam War, the Woodman's Pal® was designated the "Survival Tool, Type IV" and was issued in air crew survival kits.
The Woodman's Pal is probably the best tool for clearing wire fence lines as the it is realtively easy to keep the edges from striking the metal wire. This keeps the working edges sharp longer making for easier, more efficient work. Anything to cut my time doing chores, well I'm all for that. As you can see I actually use mine!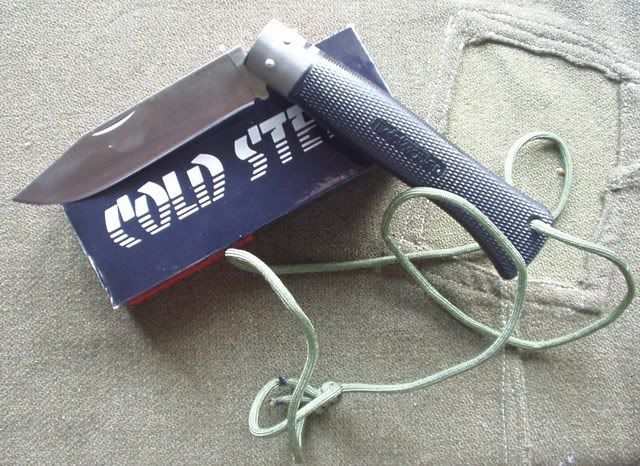 Cold Steel makes some great knives. However, finding knives that are legal for carry here in Virginia is a royal pain. As a CHP holder I don't want to get permanently zapped for something really stupid, like
Senator Webb and his aide Phillip Thompson
, so I take care to legally carry guns and knives. One of those was the smaller version of the Twistmaster knife which you've seen in my post about my hunting bag which is where it resides. At the time I also bought this larger version which I've never carried! I guess it is a collector's item now. The blades are made of Cold Steel's Carbon V and are wicked sharp out of the box. The edge isn't difficult to maintain and the fiberglass reinforced handles are both stronger than the Opinel which they mimic but also easier to hold due to their shape and to hold on to due to the sharp, molded checkering.
This next knife was recommended by Mike Nesbitt of Muzzleloader Mag (and others) in his monthly column. Clearly, I'm easily influenced and quickly ordered the knife. marked John Nowill & Sons LTD, Sheffield, this knife is an old pattern and well executed by the manufacturer. The rivets are neat and the handle tight to the tang. Despite the low cost, this is a quality knife. However my sheath is about 2-3 inches too short. Commercially made, I've not taken the time to replace it. I've not used the knife though. Perferring to wait to carry it until I have a proper sheath.
The next knife is the very common and widely well regarded Kabar or Marine Corps knife. This blade shape has been in use for a long time and the knife pattern is very popular for good reasons. It is versatile and useful for both camp duties and self defense. The maker executes manfacturer well, maintaining consistently high quality and reasonable price. Mine came from my son but I've never used it. The USMC sheath embossing isn't necessarily my taste but that hardly disqualifies the knife from an honored place.
These last knives (for now) are these three pocket knives. All are of common form and equally useful despite their different sizes. Despite or because of their small size, they are eminently useful daily carry knives. These have opened many a package, clipped threads, and generally served as pocket knives serve and done so well. The maker is unimportant but these knives by Schrade, Buck and from Sears (I don't know who their vendor is) are all fine knives.
I have lots of knives, as you've seen, but I've not told you about the multitools. That is for another time...