Russell Canadian Belt Knife is one I purchased in 1974 on Alvarado Street in Monterey, CA. Yep, a gun store in downtown Monterey, CA. I almost bought a lot of guns there but persistent poverty related to mis-spent youth prevented that. Now there's some regret in there somewhere. It would be much better that I had bought more knives than I ever took a drink or went to parties and such things. One can buy new Russell Canadian Belt Knives and derivatives from the current maker,
Grohmann
of Pictou, Nova Scotia, Canada. This is mine next to the recently acquired Cold Steel copy.
Frost Swedish Army Knife is something I bought on a whim a couple of years back. I don't know why or from whom but I got it for about $12 delivered and it is more than worth at least twice that. It dressed out AND butchered a deer in 2005 in one go and was still sharp enough to do another. The handle is plastic as is the scabbard/sheath but neither have given any problems and the grip is non slip even with blood and some fat on it. This knife is strapped to my hunting bag and has yet to fall out of the sheath. It is a pity that the US Army can't provide a knife this good for US soldiers.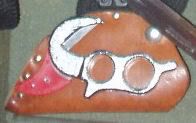 This Wyoming Knife was given to me by my late father-in-law for Christmas. Actually, he gave every one of the "boys" one that year. I like it but I've never had a chance to use it. Seems that, just like last year, although it is there, there is another knife twixt deer and hunting bag that jumps up to steal the duty. I'd just love to see how fast this thing will unzip a deer and how well it does to skin one out. It is neat in that the handle comes apart and one can replace the blades. The company is still in business and new knives and replacement blades can be purchased from
Wyoming Knife Corporation
of Fort Collins, Colorado.
Spyderco's Endura and Delicas, the difference...
Yep, I messed up on this one. Too many knives I suppose. I do indeed have an Endura with the combo edge. An older knife, it has the metal clip on the reinforced fiberglass handle but I quit using it because the clip would tear the heck out of my pants pockets. The newer Endura with the integral clip doesn't do that. Neither does the Delica with the stainless steel clip but that is because the clip has had all the edges rounded so that they don't cut the material.
For those who might be confused, from top to bottom, Delica, Endura w/metal clip, Endura w/integral reinforced fiberglass clip.